General Dentists, Dental Teams Find Exceptional Courses at AGD2021
by

AGD Staff

Jun 28, 2021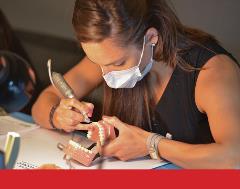 AGD2021, AGD's annual scientific session, was held June 9–12 in Austin, Texas. This meeting was one of the first dental community meetings to be held live after the COVID-19 pandemic began in early 2020, and the participants were thrilled to be there. The meeting was a hybrid event, which included in-person and virtual courses. Nearly 150 courses, including 52 sold-out courses. Nearly 100 exhibitors participated in person or through a virtual exhibit hall.
There was a fully hybrid experience, which included six lectures and two hands-on courses with materials that were prepackaged and mailed prior to the meeting. Some participants logged in for lecture-only courses as part of the hybrid selection.
AGD's
Fellowship
and
Mastership
awards, along with its
Lifelong Learning and Service Recognition
(LLSR) designation, symbolize excellence in the dental profession and a commitment to providing exceptional patient care. The meeting included a celebration of AGD Fellows, Masters and LLSR recipients. Over 450 people were recognized, and more than 700 attended to celebrate. The ceremony was also
live streamed
so that family members, friends and dental team members could view it remotely. In addition, a celebration was held immediately following the ceremony at a restaurant with open-air dining.
AGD's mission is to "advance general dentistry and oral health through quality continuing education and advocacy." AGD2021 was successful in moving this mission forward, and AGD has already begun planning for
AGD2022
, to be held in Orlando, Florida, July 27–30, 2022.