Attention 2020 Fellowship and Master Awardees:
Due to safety concerns associated with the ongoing COVID-19 pandemic, the AGD has made the difficult decision to replace AGD2020 with a virtual online meeting. The AGD also determined that a virtual Convocation Ceremony would not be a fitting way to honor our members' achievements. As a result the 2020 Convocation Ceremony has been cancelled.
All 2020 candidates should have received an email giving them the option to receive their award in absentia this year or defer receiving their award until 2021 or 2022. Candidates who elect to receive their 2020 award in absentia have the option of receiving complimentary registration to AGD2020 Virtual or deferring complimentary registration to a future meeting. All members who receive their award in absentia can participate in a future Convocation Ceremony if they choose.
2020 AGD Fellowship and Mastership Awardees: Click here to access the AGD 2020 Revised Reply Form. The AGD asks all 2020 awardees to complete this form to confirm if you want to receive your award in absentia or defer receipt to a future year.
Attention: 2020 Reply Forms were due on June 15, 2020. Awardees who did not respond will not receive their award in 2020. According to the Fellowship and Mastership Award Guidelines approved applicants are allowed three years following approval to attend a Convocation Ceremony. 2020 Awardees who did not request a waiver of the convocation attendance requirement will automatically be sent information regarding the 2021 Convocation Ceremony in April of 2021. Email questions to education@agd.org.
AGD Mastership: A lifelong commitment to exceptional patient care.
Complete your journey to excellence by achieving AGD's highest honor for lifelong learning — the Mastership Award. Mastership represents the highest level of achievement for members in accordance with AGD's mission to advance general dentistry and oral health through quality continuing education.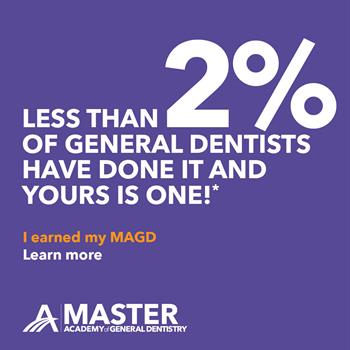 * Includes United States and Canada. Sourced from Statista and United States Bureau of Labor Statistics.
Mastership Requirements
To earn Mastership, you must complete the following requirements:
Be an AGD Fellow
Maintain current AGD membership for three continuous years by Dec. 31 of the year in which the application is received.
Have a dental license that has not been suspended or revoked within the past five years and is not currently under probation, suspension or revocation
Complete at least 1,100 hours of approved CE as an AGD member
Of the 1,100 CE hours at least 400 hours of CE must be from participation courses in specific disciplines
Of the 1,100 CE hours at least 600 hours must meet minimum hour requirements in specific disciplines
Apply for the Mastership Award
Upon approval to receive the award, attend the AGD Convocation Ceremony, held during the AGD Scientific Session, where you will receive the award; successful candidates are allowed three years following approval to complete this requirement
For more information, download the AGD Mastership Award Guidelines.
Apply for Mastership
To receive your AGD Mastership Award submit your application and the required fee to AGD by Dec. 31. Download the Mastership Award Application, or request the application via email at awardapp@agd.org. Then, apply!

Find an AGD MasterTrack® Program
Team up with your colleagues in pursuit of Mastership. MasterTrack® Programs foster camaraderie and enable members to earn Mastership more quickly than they could on their own — usually within four or five years.
Each program's organizer determines the order in which CE requirements are addressed. Most programs offer protocol courses, allowing participants to apply the new skills and techniques covered in class, and then discuss the outcomes with the instructor and colleagues. A protocol course has three primary components:
A classroom session
A homework assignment, to be completed independently by the participant
A homework presentation, critique and evaluation session
Find out whether there's an AGD MasterTrack® Program in your area, or contact your AGD constituent about other programs or study clubs that may be available to you.
---
"Earning my Mastership award has made me a more well-rounded, well-versed dentist, which benefits my patients and keeps me on the pathway to excellence, both in dentistry and in my personal life."