Significant information is coming to light about COVID-19 vaccines making their way through the Food and Drug Administration's emergency use authorization process. Because vaccines will be key to fighting this disease and general dentists are a source of healthcare guidance for their patients and the community, AGD has summarized recent findings to keep members apprised. We've also covered the recent FDA panel meeting on considerations for vaccine manufacturers. AGD is advocating for dentists to administer COVID-19 vaccines if they choose to do so.
On Dec. 1, the Centers for Disease Control and Prevention (CDC) Advisory Committee on Immunization Practices recommended healthcare workers be prioritized to receive vaccines first. The CDC and the National Academies of Sciences, Engineering, and Medicine define Phase 1A — healthcare workers — as the highest priority group, and dentists fall into the category.

States determine the distribution strategies. Because of the limited supply of vaccines initially, states are likely to subprioritize within the category of healthcare workers, and it is unclear when dentists can expect to be authorized. States were required to submit final distribution plans to the CDC by Dec. 4.
A good resource to understand this unprecedented effort is the U.S. Department of Health and Services/Department of Defense publication, From the Factory to the Front Line: Operation Warp Speed Strategy for Distribution of a COVID-19 Vaccine.
COVID-19 Vaccine Candidates
Chart below adapted from Biomedical Advanced Research and Development Authority (BARDA) presentation at the U.S. Food and Drug Administration Vaccines and Related Biological Products Advisory Committee Meeting on Oct. 22, 2020.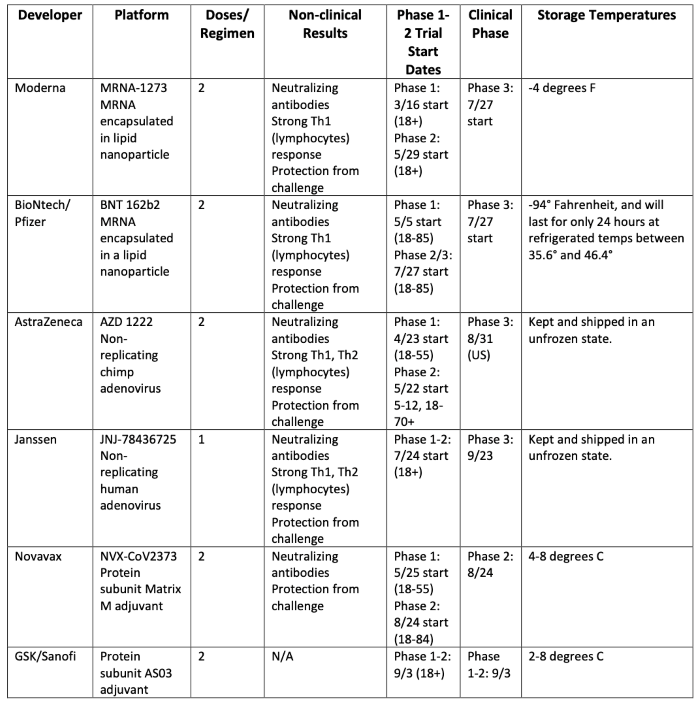 Check out list of worldwide COVID-19 vaccines under development
U.S. Food and Drug Administration
High Level Considerations:
HHS officials are concerned about the planning, monitoring, and safety system once a vaccine is approved.
Adverse Event system for vaccines is called VAERS. CDC and the FDA co-manage the reports, which total around 50,000 per year. Vaccine safety data is refreshed weekly. https://vaers.hhs.gov/
FDA is seeking greater than 100 million records in a surveillance system. Electronic health records have much better data than claims data but all data systems currently have their own limitations.
Vaccine hesitancy: many patients don't want to be the first to take the vaccine. Patients are interested in the efficacy within their age group.
Building trust is paramount and mandating a vaccine is not encouraged.
Logistics: if a vaccine requires 2 doses and other vaccines require 2 doses, how do you ensure that the patient receives the same type of vaccine as the initial dose? Systems are set to track the type of vaccine; a vaccine card will be sent with the patient, as well.
Practitioners will need to continue to use good PPE practices for vaccine administration.
Reagan-Udall Foundation: (established in Food and Drug Administration Amendments of 2007)
The Reagan-Udall Foundation held eight listening sessions on potential COVID-19 vaccine. Reagan-Udall Foundation is working with Center for Biologics and Research to help them understand the public's perception on COVID-19 vaccines.
Feedback from the public listening sessions:
Concerns about the speed of the process
Distrust of government and government agencies
Distrust of health care system
Concerns that politics and economics will be prioritized over science
Fears that the vaccine will not work for me or my community
Fears based on past experiences (ex. Tuskegee experiment)
Licensure vs. Emergency Use Authorization
Concerns about the Chemistry, Manufacturing, Controls (CMC) of the vaccine candidates
Considerations for Manufacturers of Vaccine Candidates:
Vaccines must be safe, pure, and potent.
Vaccines must be validated and a quality control unit must be established.
All manufacturing facilities must be in compliance with aseptic, cleaning, and sterilization processes.
Stability plan is needed with data demonstrating the stability of the vaccine under certain conditions/temperatures.
Inspection process is typically for licensed products but the FDA is seeking to apply that to Emergency Use Authorization (EUA) products as well.
The expectation from the FDA is that the design of the trial will be a randomized placebo-controlled trial. COVID-19 disease of any severity is the endpoint.
The vaccine candidate should be at least 50% effective.
Safety considerations support a median follow-up of 2 months after completion of the full vaccination regimen.
Complex and Evolving Landscape for COVID-19 Vaccine:
One vs. two-dose regimen
Products are not interchangeable
Vaccine efficacy and adverse event profile in different populations
Varying cold-chain requirements
Use in children and pregnant people
Need for socially distanced vaccination practices
Communication and education
Some groups at higher risk for COVID-19 may have concerns with public health and vaccinations

The CDC's Vaccinate with Confidence describes the importance of childhood vaccinations to help healthcare professionals respond to patient questions.
From FDA Guidance (Page 17):
To ensure that a widely deployed COVID-19 vaccine is effective, the primary efficacy endpoint point estimate for a placebo-controlled trial should be at least 50%, and the statistical success criterion should be that the lower bound of the appropriately alpha-adjusted confidence interval around the primary efficacy endpoint point estimate is >30%.
Comments Expressed During the Public Comment Section of the Meeting:

There is a need for long-term safety and efficacy data.
There is a lack of data on pregnant women and children in the trials currently being conducted.
Unless changes are made to the guidance, the U.S. could end up with vaccines that reduce the risk of mild disease but not severe or hospitalized patients. FDA's severe COVID-19 endpoint needs revision as well as the blood oxygenation of less than 92%.
Political ideology and level of education has a lot to do with the likelihood of taking a vaccine.
Trials don't often reflect real world data.
If the first vaccines are not safe and effective, it will ruin the prospects of subsequent vaccines.
Six months of data following a trial are needed.
The trials have serious design flaws and won't achieve the primary endpoints.
Serious cases are too loosely defined in the FDA guidance document.
Women have stronger immune systems than men.
Women typically need about ½ the usual dose. Women and men need to be equally represented in the trials.
The FDA should change the guidance to 75% efficacy.
All states and territories have submitted distribution plans to the CDC. Transparency in distribution is critical.
Trials should be inclusive of gender conforming and non-conforming people.
Potential Vendors for Vaccine Storage
Vaccines must be stored properly and obtaining the right equipment is essential to meeting the safety standards.
Liability Issues
The National Vaccine Injury Compensation Program (VICP) covers most routine and seasonal vaccines in the U.S. e.g. HPV, seasonal influenza, measles, mumps, tetanus, etc. This federal program does not offer liability protection for such vaccines, so it is important to note the difference in states who only allow dentists to perform flu vaccines, for example, and what liability is offered at state levels or through private insurers.
The Countermeasures Injury Compensation Program (CICP) was derived from the Public Readiness and Emergency Preparedness Act of 2005 (PREP Act), and provides compensation to individuals who have suffered loss (anything from injury to death, essentially) as a result of receiving a vaccine for a countermeasure, which is defined as a public health emergency or security danger. COVID-19 has been recognized as a countermeasure under this program.

Under the PREP Act, 42 U.S.C. § 247d-6e, broad liability protections cover the manufacture, testing, development, distribution, or use of the designated covered countermeasure; most importantly for all administers of countermeasure vaccinations (including dental professionals).
Vaccine Administration
The following summarizes information about vaccine administration in a few states.
Oregon: Oregon is the only state that has passed legislation allowing dentists to prescribe and administer any vaccines (this would include a vaccine for COVID-19). Specific legislation can be found here: Oregon House Bill 2220.[2] This bill was passed May 6, 2019, and since then the following protocol has been established.
Official law change occurred in January 2020, so this is still very new.
Dentists can provide vaccines once they complete the training through the Oregon Health & Science University (OHSU is the only accepted certification)
Oregon Health & Science University worked with the Oregon Health Authority (OHA) and the Oregon Board of Dentistry as well as other schools within OHSU including medical and nursing schools to adopt their/create a curriculum:

2-part course: 8 hours of CE, online lecture & in-person hands on training
This training is now automatically included in the Dental School curriculum and is also available to outside dentists

This is not a fast or inexpensive process—once this training is completed, dentists must still be approved by the Dental Board in order to get their Vaccine Administration Certificate. They then must go to another health authority in order to acquire the actual vaccines and other the resources needed in order to administer it. Training in the immunization database is also needed.
Illinois and Minnesota are the only two other states that allow dentists to administer vaccines, however this only includes seasonal vaccines and can only be administered to, in Illinois, patients 18 years of age and older, and, in Minnesota, 19 years of age and older.
This topic is under consideration in multiple states especially with the onset of COVID-19, and it is expected that the pandemic may prove to be a force driving policy changes necessary to expand dental vaccine programs to incorporate countermeasures.
Resources
Read more about dentists' role in the following articles: