A Simple Guide to Launching Your Practice's Facebook Page
by

Jackie Ulasewich

Dec 12, 2017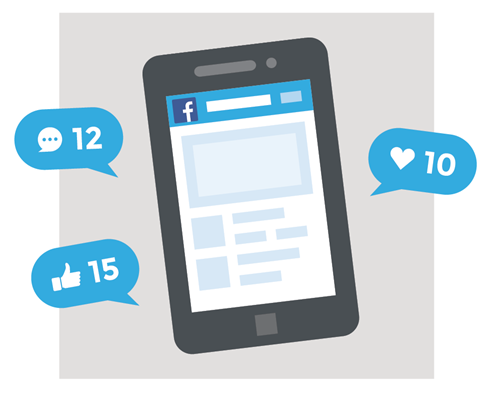 As a business owner, it is imperative for you to market your practice. Not only do you need to attract and retain patients, but you have to stay competitive and set yourself apart from the dentist down the street. The most effective way to reach your audience is by being exactly where they are: online.
Online marketing does not end with your website, though. To stay relevant and reach the maximum number of people, you need to engage them through social networking. Facebook is the reigning king of social networking sites for marketing.
What Is Facebook?
Facebook may have begun as a platform through which college students could interact, but it has far surpassed its original purpose. These days, all age groups use Facebook to stay connected with friends, family members, colleagues and potential clients.
Why is Facebook invaluable to marketing your practice? The site is continually refined to stay on top of trends (such as live streaming) and the needs of account holders (such as the ability to promote businesses). It serves business account holders by collecting user data that allows you to target your marketing wisely and attract patients, and it provides insights about those who already follow you. Even as you read this, Facebook engineers are creating algorithms to help you promote your practice in the most effective way possible.
Setting Up Your Facebook Page
Creating a Facebook page is free, even for businesses. The minimum requirements are that you have a page name (which should be the name of your practice or a logical variation of the name), two images (one of which can be your logo) and a call to action. (Such as "Call now!")
When you set up your page, you will select a business category ("Local Business or Place" will work best), enter the required information about your practice, upload your images and add a call-to-action button. The entire process takes minutes, so there's no need to set aside hours of your time. Here is a brief, step-by-step guide to creating your Facebook Business Page.
Log in to your own personal Facebook profile. Your account must be tied to a personal page, so if you don't have one, create a generic one for yourself.
From there, find the down-pointing arrow next to the question-mark icon on the top right of the page. Click the arrow, and choose "Create Page."
From here, you'll be taken to a screen with six squares, each allowing you to choose what type of page you'd like to create.
Since you are a dentist, you'll choose the first square, "Local Business or Place."
When you click it, you'll be prompted to enter your practice's name, page category (just type "Dentist" here), the street address of your practice and your practice's main phone number.
Now, click the blue "Get Started" button.
What to Include on Your Page
As you create your page, Facebook will prompt you to add details. The more you add, the more effective your page will be. You will need to:
Invite "friends" to like your page.
Create a customized greeting for those who send a message to your practice.
Direct people to your practice's website.
Add an additional administrator to help you manage the page.
Incorporate your practice's hours so anyone visiting your page will know when you're open.
Add a description about what makes you unique and why a patient should choose you over your competition.
Earlier this year, Facebook reported that it had more than 1.28 billion daily active users on the site. While not all of those users are among your target audience, you will ultimately reach hundreds with the appropriate call to action.
How to Post
Posting to your business page is similar to posting to your personal Facebook page. New to Facebook? No problem. The social network is great at walking you through the process. Here are the basics that you can expect:
Select the icon for your medium. Do you want to share a thought, picture, video or live stream?
Write your copy or upload your photo or video. Remember that whatever you post should encourage engagement.
Tag friends or add a location. This is perfect for events outside of the office.
Select your audience. Are you making this public, or do you only want your "friends" to see it? (Hint: For marketing your practice, make it public.)
Review for typos or other errors; then, post!
What and When to Post
Your posts should be a reminder to your patients that you're there for them (even when they're not in your chair) and allow them to see your true personality. As far as the content that you post, only 20 percent of it should be geared toward selling to your audience. The goal is not to make your patients to feel pressured every time they look at your page, but to let them see the personality of your practice and feel connected.
To that end, the remaining 80 percent of the content that you post should be fun and encourage engagement. The following tips will make your posts pop:
Jokes! (An example: "What does the dentist of the year get? A little plaque.")
Fun facts. (An example: "People who drink three or more glasses of soda each day have 62 percent more tooth decay, fillings and tooth loss than others.")
Practice-related posts. Is it your office manager's birthday? Share a picture. Are you sponsoring a little league team? Share a short video of a game. These posts are highly effective when it comes to giving your patients a glimpse into your true personality. Seeing you as a person and not just a dentist goes a long way in building relationships and creating loyalty.
Send people to your blog, if you have one. Each time you publish a new blog post on your website, your Facebook page should invite others to read it.
Information and education. Provide a tutorial on the proper way to floss or an explanation of dental implants work.
Facebook live posts and photos. Having a surprise party for your office manager? Live stream his or her reaction. Take photos during the event.
Ideally, you should post three to four times per week. Once per month will not be sufficient enough to stay in the forefront of your patients' minds. More than three to four times per week can be perceived as annoying. If most of your posts are fun and engaging, then you won't need to worry about overwhelming your patients with what you share.
The timing of when you post is important, as well. When you first begin to post, observe (or have another administrator observe) when people are responding to your posts. If you get the most "likes" in the morning when people are sipping coffee and browsing their Facebook feed, then scheduling posts for the early morning will work best for you. If you're getting more reactions on weekends, then post more on Friday, Saturday and Sunday.
Bottom line: Pay attention to your audience and post when you know they are likely to see the posts and engage with them.
Getting Patients to "Like" and Engage
One of the greatest perks of using Facebook as part of your marketing strategy is that it gives you the ability to remind patients multiple times each week that you're around. If you use your posts effectively, you'll not only get patients to "like" them, but to engage with them as well. What is engagement? It's when your followers respond to and share your posts, and you respond in return, keeping in mind HIPAA regulations. Need some ideas to promote engagement? Consider inviting your followers to share your posts or asking a question that requires a response, such as, "If cost were not an option, what dental treatment would you immediately seek?"
The best part of patient engagement is that it allows you to develop relationships with current patients. Your posts will become a welcome addition to the time they spend on Facebook. Seeing you smiling, laughing and engaging with others humanizes the person wearing the white coat.
The second best part of patient engagement is that the friends and family members of your patients see how they engage, making your patients one of your best marketing agents. Each time your current patients respond to or shares a post, their friends see it. Each time their friends see the name of your practice, it's increasing your brand awareness. This only happens if you genuinely appeal to your patients, though, so be thoughtful in your posts.
Responding to Patients
Be sure to respond to your patients, keeping in mind that there are HIPAA regulations regarding patient privacy on social media, including simply acknowledging that the person is a patient. Carefully craft a general response that you can use to show your appreciation for the follower's comment. This is a great reason to add administrators to your practice's Facebook page; anyone listed as an administrator can track comments and respond.
If using Facebook as part of your marketing initiatives seems overwhelming, take a breath. Facebook is user-friendly and wants to help you use social networking to grow your practice. It offers clear written directions as well as video tutorials to help you create your account. The time it takes to set up and manage a Facebook account for your practice now will pay off in patients later.
Jackie Ulasewich is cofounder of My Dental Agency, a marketing company specializing in dental practice. To comment on this article, email impact@agd.org.