AGD Hosts Conference to Advance Advocacy Efforts
by

AGD Staff

Oct 25, 2021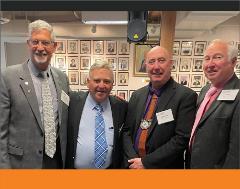 On Oct. 8, more than 40 AGD members came together in Chicago to share best practices in advocacy and legislative outreach to expand the organization's impact with state and federal legislators. The AGD Advocacy Conference welcomes members each year who are ready to enhance their advocacy skills. In addition to learning about individual issues, attendees learn about AGD resources to support advocacy efforts and best practices for meeting with legislators through roleplay scenarios. During the conference, members fully explore key topics and how these specific policies and regulations would affect general dentists in their practices and how they provide patient care.

AGD's 2021 Advocacy Conference included the following topics:
"Federal Updates," presented by Dane Farrell, AGD federal representative, Kent & O'Connor.
"Teledentistry," presented by David Keller, DDS, MAGD, ABGD, AGD Legislative and Governmental Affairs (LGA) Council member.
"Midlevel Providers," presented by Spencer Bloom, DDS, Illinois AGD at-large board member, and Ninia Linero, AGD manager, Government Relations.
"Insurance Carriers," presented by David Mintz, Texas AGD legislative consultant.
"ADA Task Force to Enhance CDT," presented by Ralph A. Cooley, DDS, FAGD, AGD Dental Practice Council member.
"State Unemployment," presented by Mike Bromberg, DDS, LGA Council chair and AGD congressional liaison.
State Advocacy Best Practices and Training," presented by Ninia Linero and Mike Bromberg, DDS.
"Former Speaker of the House Tip O'Neill always said, 'All politics is local,'" said Bromberg. "For this reason, we must maintain relationships with local, state and federal legislators, agency leaders, and other regulators. They are busy with a wide array of issues, so, if they don't hear from us, they won't know the true impact legislative actions will have on our practices and the ability to provide care."

Bromberg reminds members that we all have a responsibility to speak up on behalf of the profession. He offers the following tips:
AGD has resources available to you online. For specific questions, contact the AGD Legislative and Advocacy team at advocacy@agd.org. The team is here to support you.
---
Consider supporting the AGD Advocacy Fund. The fund supports national and constituent advocacy efforts by providing resources to tackle new matters, such as legislation or legal action affecting the practice of general dentistry.

The fund accumulates across budgetary cycles, allowing the AGD to act nimbly and substantially when the need arises. Contributing allows you to invest in the advancement and protection of general dentistry in the face of current challenges. The health care landscape is changing rapidly, but with your support, the AGD can face these challenges head-on.

Give now.