Dr. Hamlin Creates a Bespoke Dental Experience in Upcoming Boutique
by

AGD Staff

Sep 20, 2021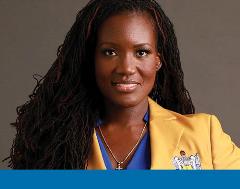 In July 2020, Zaneta Hamlin, DDS, FAGD, put out a call to action to organized dentistry in an American Dental Association (ADA) New Dentist News article: Acknowledge the different experiences Black and brown dentists have, and encourage diversity within leadership to promote inclusivity and represent all voices within dentistry. (Read the
full article
.) In July 2021, when this interview took place, Hamlin was excitedly working toward the opening of her own dental practice, Cusp Dental Boutique, in Virginia Beach, Virginia. She spoke with
AGD Impact
about her motivation for becoming a dentist and her vision for her upcoming practice.
AGD Impact: What made you want to become a dentist?
Hamlin:
I became a dentist mostly because I was exposed to it. I regularly saw my dad, his friends and my uncles, who were all dentists. Dentistry was in front of me — I saw it firsthand and knew it was something I could do. I didn't know any women dentists, but my dad was confident and said I could be one. I grew up in a little town in Canada called Wynyard, Saskatchewan. Being the only Black family in town, and the fact that my dad was the dentist to go to, played a major role in my wanting to become a dentist. I am also mostly an extrovert who enjoys engaging with others — I like creating and working with my hands — and I am a bit of a geek, so dentistry made complete sense.
What inspired you to pursue AGD Fellowship, and are you working toward Mastership?
I pursued AGD Fellowship because, personally, I am a bit of an overachiever who tends to push to show that things can be done. I wanted to be a part of the 6% of dentists who have the privilege of claiming that title and all it provides. I wanted to do something to set myself apart. I remember my dad saying that he wished he had done more with organized dentistry and education, and I didn't want to wish. I wanted to do it so that if my daughters decide to follow in my footsteps, they will have been exposed to it so they can push to be even better than me. In terms of Mastership, I took my first Mastership-specific course in August via the Virginia AGD in Chesapeake. When I got my Fellowship, I only wished I had done it earlier in my career. With this big upcoming change in my career, it may take a while for me to seriously pursue Mastership, but it is definitely something I am working toward.
What is your vision for Cusp Dental Boutique, and what are you looking forward to the most when you open? What does it mean to be a dental boutique?
I want my office to have a very different esthetic and vibe that embodies a compassionate and forward-thinking team. I want it to be a place where my team, aka my squad, has a sense of ownership. I want both my squad and patients to be proud of the practice. I want people to want to wear the logo and tell their friends about it. I want a fun and active practice. I want there to not just be a clinical and overall well-being component but also a social component. I learned what I like and what I don't like from being an associate over the past 9 years, and I have also witnessed what it looks like to be in a practice with a family. My father has had the same team members since I was 9 years old. These folks have watched me grow up and start my own family, and they are part of our family. That's what I want for my office.
I am also looking forward to having systems in place and consistent protocols. Wild, right? Ownership aside, I want my team to understand that, while I'm in the office, I will give over 150%, and I want that from them as well. I also respect and love them and want them to have some form of balance. I don't want the practice to consume them. This is where burnout starts. I look forward to seeing my children on a regular basis, too, even if that means they are in the office with me after school.
To me, a dental boutique is a sophisticated practice that does things differently. In my case, a boutique practice is a profitable practice that focuses on customized care for its patients — a place where my patients know and feel that I give them my full attention and time (which is our most prized possession these days). I wanted to steer clear of the generic "Zaneta's Family Dentistry" and have a creative name and logo that means something to me — my logo was adopted from a Ghanaian symbol that means strength and humility. With this approach, I hope my squad understands it's not about me and that the name inspires a sense of ownership by my associates and team.
What leadership positions do you currently hold, and how do you volunteer? What motivates you to be so involved in your community?
I am currently the president (soon-to-be immediate past president) of the Tidewater Dental Association, and I am also membership chair and an ethics committee member for the Virginia Dental Association. I am a Chesapeake Care Clinic board member, and I precept for Virginia Commonwealth University students when I am not directly volunteering to treat patients at the care clinic. I am also an active ADA Advisory Circle contributor.
I like to stay informed, so being an active member of organized dentistry keeps me in the loop. When it comes to community service, my parents are philanthropists who showed compassion to others during my formative years — my mother with a nongovernmental organization and my father through dentistry. I have adopted that compassion. There's just something about being able to help someone in need, and, the way I look at it, we are all people, and we don't know what our futures hold. Being a blessing to someone gives me a sense of pride and accomplishment. The gratitude expressed is the cherry on top.
What has your experience been like as a Black female dentist within the profession and within AGD? As an AGD Fellow and a graduate of the ADA Institute for Diversity in Leadership, how do you think AGD can better support Black dentists?
Some of my patients see me as a unicorn. Unicorns, according to my girls, are amazing. I am sure the subset of AGD Fellows who are also graduates of the ADA Institute for Diversity in Leadership are few. In 2020, I had an opportunity to give a little insight on some of my experiences as a young African American female dentist in ADA's New Dentist News. I am proud of my decision to become a dentist and a Fellow. My experiences have made me a better person and allowed me to impact the perception of other clinicians of color. At the end of the day, we are all afforded the opportunity to be better versions of ourselves by learning from others and from experiences. I believe AGD is heading in the right direction and can further improve by celebrating and growing diversity. Encouraging qualified dentists of color to sit, engage and contribute at the leadership table will help improve representation overall.