The Fellowship and Mastership Journey: For Some, It's a Family Affair
by

AGD Staff

Jun 28, 2021
AGD's Fellowship and Mastership Awards, along with its Lifelong Learning and Service Recognition (LLSR) designation, symbolize excellence in the dental profession and a commitment to providing exceptional patient care. AGD2021, held June 9–12 in Austin, Texas, included the annual Convocation Ceremony and Celebration. Over 450 members were honored in a ceremony that recognized 2020 and 2021 recipients.
This year's ceremony was striking because of the number of spouses, siblings and family members who were honored together. AGD talked with some of the honorees and discussed their experiences working alongside family members to achieve these accomplishments and how they kept each other motivated.
Jeremy D. Parrot, DDS, FAGD, and his wife, Julie A. Hengehold, DDS, FAGD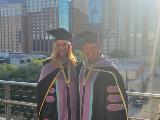 Parrot:
After 15 years in the practice of general dentistry, it was important for us to receive our Fellowships so that we could confirm our commitment to lifelong learning in dentistry. We have been members of AGD since dental school. Along with the organization's many benefits, AGD collects and tallies our CE credits. We felt that we could increase the value of our membership by becoming recognized with the Fellowship Award.
We decided to go through the process together in 2019. As a married couple, we are supportive of each other's growth. We are also aware that we are both competitive. It made the process a bit more fun by comparing our practice scores. We studied on road trips to grandparents' houses and quizzed each other while one of us was driving. We set aside a weekend for Zoom courses.
We would advise anyone considering pursuing their Fellowship to continue. If that person has the requirements met, they should immediately schedule their examination on a date that gives them enough time to study. The sooner they take the exam, the more likely they are to achieve more within AGD.
We currently own and operate two dental offices. AGD Fellowship is something that we are proud of, and it is something that will be displayed within our reception areas. With time, we plan to continue on our path toward Mastership. We consider ourselves lifelong learners.
Daniel Funk, DMD, FAGD, and his brother, Derek Funk, DDS, FAGD
Daniel:
Going for the Fellowship was important to me because I want to be a well-rounded dentist who can explain and deliver quality care to my patients. Getting the Fellowship has helped me stay up to date on a wide variety of topics.
I started the conversation with my brother about this program, but, since then, he has been way more disciplined than me. He has kept me on track for sure — nothing helps like some friendly competition with your big brother!
My advice for others considering the FAGD is to just do it. You'll be happy you did for so many reasons. We are going to work toward the MAGD next.
Paul T. Huey, DDS, FAGD, and his wife, Elisabeth L. Dommer, DDS, FAGD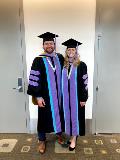 Huey:
The overall concepts and values of AGD fall in line with our practice philosophies and values. Elisa's father (Laan P. Dommer) was a general dentist who received his AGD Fellowship and Mastership. Laan has encouraged us along the way with our private practice purchase and has fond memories of his time with AGD, so this made it extra special for us. AGD has grown to empower general dentists nationwide, and we wish to contribute to this growth.
Throughout the process of preparing, we were able to challenge each other along the way and support each other in terms of getting the necessary hours completed as well as studying the materials. We are both very independent, so we each took our own time to study for the exam. Many people don't think of this, but scheduling CE courses can be a challenge when you share a private practice and a family (i.e., one person goes to a weekend course, and the other person is on "kid duty" at home).
The most challenging part was taking time away from our growing family (we have two young boys) to attend CE courses and study for the Fellowship Exam. Luckily, the Minnesota AGD has a great set of courses that helped us along the way.
The AGD Fellow and MasterTrack programs provide excellent ways to give yourself tangible checkpoints and goals in your career. They're also great ways to meet other like-minded dentists who want to pursue a high level of care for patients through lifelong learning. We've found that many of the individual dentists we have met in local and regional AGD groups have been wonderful, kind and eager to share knowledge. This is what it's all about for us.
Raymond Tanaka, DDS, MAGD, his wife, Cynthia L. Leong, DDS, MAGD, and their daughter Jennifer Tanaka, DDS, FAGD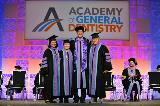 Raymond:
We have had the benefit of parents, relatives and colleagues who set high standards. As a family, we kept each other motivated by reminding each other of due dates and working out the logistics of coordinating schedules.
As professionals and as parents, Cynthia and I felt the responsibility to live up to the standards set by our mentors. Now, we get to be the ones to encourage the youngsters. We have another son who can earn his Fellowship; Jenny could earn her Mastership; and we could get our LLSRs. It would make a cool picture to have the four of us onstage!
We don't grow when things are easy; we grow when we face challenges. The AGD program is challenging and rewarding. I hope that anyone who has reservations about starting the journey feels welcome to contact us directly to discuss concerns.
Cynthia:
Ray has always embraced the opportunity for new challenges. I would hear him say again and again: "You can do it; I will be there to help you." Ray is a great communicator and has the ability to ask for help from our specialists each time we had an assignment. Having the encouragement of my partner and the leadership of Arizona AGD helped me work through any obstacles I faced.
Ariel Westervelt Heisser, DDS, FAGD, and her husband, Eric L. Heisser, DDS, FAGD
Ariel:
After I graduated from dental school, my first few months of practicing were tough. I was seeing all sorts of unique, complex cases and wanted more confidence that I was providing the absolute best care. I decided to pursue as many CE courses as I could fit into my schedule. After each course, I felt even more enthusiastic about dentistry and became more confident in my knowledge and skills. Obtaining my Fellowship has allowed me to work each day with peace of mind and confidence.
Eric and I love going to conventions together! We have so much fun on these work vacations, and I'm so glad I married a dentist. We went to the 2018 American Dental Association convention in Hawaii for our honeymoon and island-hopped afterwards. We also go to the Florida Dental Convention every year in Orlando and have a great time at Disney after our classes are done. At the conventions, though, we actually take very few of the same classes together. We try to take as many different CE paths and courses as possible so we can learn from each other and also so that, when we work together, we have different skill sets.
I really believe that, as dentists, part of our job is to continue learning. We must keep up to date on new research and materials to keep providing quality care for the best possible patient outcomes. This is what we signed up to do when we became dentists. Putting a goal on acquiring new knowledge just made the process easy!
Stephen Boyles, DDS, FAGD, and his father, Franklin R. Boyles, DDS, MAGD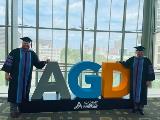 Stephen:
I saw my Fellowship as the first major goal in my career after graduating from dental school. It was great to be able to take CE courses with my dad, especially Texas AGD's MasterTrack courses. Staying the course is tough, but my dad and I constantly encouraged each other throughout the journey. The process was a lot easier with a spotter.
I'd encourage anyone considering working toward Fellowship to begin with the end in mind. Set a reasonable date, and factor in some wiggle room in case life happens. The journey to Fellowship and Mastership should be enjoyable.
I'm going to work toward my Mastership next as well as my fellowship in the American Academy of Implant Dentistry.
Franklin:
When I saw how motivated Stephen was to get his Fellowship, it really motivated me to finally get my Mastership. We just tried to enjoy the journey as much as the destination. Fortunately for us, Texas AGD has a great MasterTrack program, so that made it much easier to stay the course. Make sure you plug into your local, state and national AGD organizations — they have a ton of resources that can save you time, effort and money! Next up for me is certification from the American Board of General Dentistry.
Madhukar Patel, DDS, MAGD, and his wife Nilima Patel, DDS, MAGD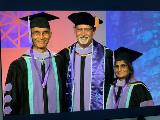 Madhukar: We are naturally academic-oriented and passionate learners, so we are continually looking at ways to contribute to our patients' oral and overall health.
Continuing education is an important part of our lives, so pursuing our Mastership was a natural next step. Our goal is always to provide better services and overall support to our patients. There are so many exciting advancements happening in dentistry, and continuous learning was important to us.
Dentists are trained to focus on the mouth, but we knew we wanted to focus on practicing "outside the box." We took courses that applied a more holistic approach to patient care and highlighted how to practice collaborative care. We can counsel our patients on nutrition, breathing, joint and facial issues, pain, posture, speech, sleep, and more. Just taking a moment to assess the patient, look in their eyes, ask about pain or joint problems is key to understanding whether external signs and findings in the mouth may impact overall health.
My advice to general dentists is to keep attending courses and widening their horizons. Don't limit yourself to what you learned in school. There is an ocean of knowledge to incorporate into your practice so that you can help your patients – more natural and more holistic ways to provide care. Collaborative dentistry and medicine can be learned, practiced, and integrated into your practice when you value ongoing education. This approach can help with joint and teeth development and ultimately improve a patient's quality of life. You need to be interested in furthering your understanding of the body and how it ties with dentistry and the patient's overall well-being.
Life doesn't need to be rewarded financially. Insurance companies may not reimburse some of the things we've focused on through our education, but the personal satisfaction we find by knowing that we are partners in their health is something we truly value.