Clayton Sorrells Evolves from ICU Nurse to Dental Student
by

AGD Staff

Jan 25, 2021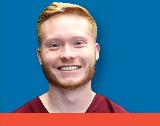 AGD student representative Clayton Sorrells is a second-year student at the Louisiana State University (LSU) School of Dentistry at the LSU Health Sciences Center (LSUHSC) in New Orleans. Prior to entering dental school, Sorrells was an intensive care unit (ICU) registered nurse. He spoke with
AGD Impact
about how he went from nursing to dentistry and how he uses his medical experience to better serve dental patients.
AGD Impact: What brought you to dentistry from nursing?
Sorrells:
I began nursing school in 2014, but, like many 20-year-olds, I had no idea what I wanted to do with my life. I wanted to go into nursing because I knew I would be able to help people and that I would be able to provide for a future family. When I graduated in 2016, I had already made up my mind that nursing was not for me and that I would want to do something else as a career. I loved my time as a nurse, but I did not have a great passion for nursing, and I always felt pulled in a different direction. I went to a dental appointment one day, and my dentist asked me a very simple, interesting question: "Clayton, what are you doing with your life?" I told him I was a nurse but not sure it was what I wanted to do forever. He told me to shadow him one day, and the rest is history. I loved my experience and shadowed many more times after that. I love how, in dentistry, I can impact people's lives, work with my hands every day and eventually own a practice.
How has the knowledge and experience base you developed as an ICU nurse informed your approach to dentistry so far, and how do you plan to leverage your background after school?
Working as an ICU nurse has definitely helped me in dental school. Nursing taught me to think critically and how to communicate with members of a team and with patients. The dreaded dental pharmacology class has also been much easier for me since I was exposed to it in nursing. I believe my nursing background will help me greatly in my practice as a dentist. When you take care of such sick patients, you really learn how to communicate with them and their family members. Nursing is also an extremely trusted profession, and I believe that will help me in my relationships with patients. Already knowing how to start intravenous lines and being certified in advanced cardiac life support will also benefit me if I decide to do more invasive procedures.
How did you make the decision to go back to work at a COVID-19 ICU during your dental school's closure?
Going back to work as a nurse during the pandemic was a no-brainer for me. When my dental school moved classes online because of COVID-19, the question wasn't a matter of if I was going to help out, but when. I believe it would have been selfish of me to stand idly by when I knew I could help. I moved back to be with my fiancée in Little Rock, Arkansas, when classes moved online, and I heard that the medical ICU (MICU) at the John L. McClellan Memorial Veterans Hospital had turned into a COVID-19 unit and needed nurses. I worked in the MICU during nursing school, and I loved serving and caring for veterans. I believe it was a godsent opportunity because I got to work beside the nurses who helped me become a nurse, and they helped me remember all of the things I had forgotten since leaving the profession. I had the opportunity to care for some extremely sick veterans, and, unfortunately, some were not able to fight the virus. I will never forget working a 12-hour night shift, going home and sleeping for three hours, then waking up to take a microbiology exam. It was a humbling experience, and I'm glad that I could help in some capacity.
How has AGD served you as a student?
AGD has helped me grow so much in my leadership capabilities. I started as the LSUHSC AGD first-year representative and now also serve as the secretary/treasurer, and I was able to serve as a student delegate at the 2020 House of Delegates. I had the opportunity to vote on resolutions that affect AGD and potentially the field of dentistry. It was a great feeling to express my opinions as a student and be heard. These opportunities have allowed me to network with great leaders in AGD and dentistry. Our LSUHSC AGD faculty adviser, Kay Jordan, DDS, MAGD, has continually guided and pushed me to ensure I am involved at the local and national levels. One of the other things I love about AGD is the continuing education (CE) courses and the ability to gain CE credit while in dental school. These courses have taught me so much about dentistry and have helped me in my dental school classes.
Do you know a member who deserves a special spotlight in an upcoming issue of
AGD Impact
? Email your recommendation to impact@agd.org.