Myths About Amalgam Separator Recycling
by

AGD Staff

Jan 27, 2020
A Must-Read Prior to Implementing a Solution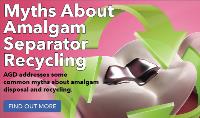 In an effort to give AGD members the facts on how to avoid liability by complying with the Environmental Protection Agency's (EPA's) new regulations on amalgam disposal, we asked Alfred Frost, DDS, MS, director of Scientific and Clinical Affairs at Dental Recycling North America Inc. (DRNA), to address some common myths about amalgam recycling.
Myth: In order to comply, I only need to install an amalgam separator that is tested to the ISO 11143:2008 standard and has a removal efficiency of at least 95%.
While you do need to install an amalgam separator that is tested to the ISO 11143:2008 standard and has a removal efficiency of at least 95%, there are more steps required for full compliance. The rule is really a two-part rule, requiring you to install the amalgam separator and make sure the machine is maintained and the material collected is recycled. First, you will need to submit a one-time compliance report by October 12, 2020, to your local EPA authority or local publicly owned treatment works (POTW). Second, the dental office will need to keep records of maintenance and recycling. These records are important to have in case of future inspection. The waste should be recycled at an EPA-verified facility, and the records must include the final disposal site of the recycled waste.
Myth: My recycling provider recycles waste overseas but doesn't provide a certificate of recycling from the final disposal facility. This is okay.
This is not okay. Companies that ship their waste outside the United States can issue the dentist a certificate of receipt, which means the waste that was picked up from the dental office was received at a holding facility, as opposed to a certificate of recycling. However, unlike certificates of recycling or compliance, a certificate of receipt does not certify that the waste was recycled, and it does not have the final disposal facility on the receipt — both are needed to be in full compliance. In the event that the foreign disposal facility provides a certificate of recycling or compliance and complied with 40 CFR 261.5(g)(3), then this could be acceptable; however, it is not guaranteed that your local POTW or EPA authority will accept a foreign certificate of recycling or compliance. Further, the rules for shipping hazardous waste overseas are quite onerous. If the dentist is unaware of which certification they need, they may think they are fully compliant when, in fact, they may have a huge potential liability if the waste is not properly recovered. Without full knowledge of the process of waste handling from start to finish by their recycling provider, they can only hope for a good end result rather than being guaranteed one.
Myth: Every recycling provider in the market guarantees a fixed annual recycling cost.
DRNA guarantees a fixed annual recycling cost; however, not every recycling provider does. Many customers switch to DRNA because of previous experiences with other recycling providers where the company's amalgam separator unit needed to get changed out multiple times per year rather than once as originally quoted, thereby increasing the cost. Therefore, I would recommend asking the amalgam separator supplier for a written guarantee that the unit only needs to be recycled once per year. I would also ask if the company provides free additional containers, recycling, shipping, etc. in the event that the unit fills up sooner than a year.
---
To learn more, register for the webinar "New EPA Rule on Amalgam and Amalgam Waste Handling" on Thursday, Jan. 30, at noon or 7:30 p.m. CST.
---
DRNA is an AGD Exclusive Benefit provider. As an AGD member, you can get a
FREE
amalgam separator from DRNA while locking in the current annual recycling rate for three or five years.
1
Plus, AGD members receive a DRNA compliance package, 2.5-gallon amalgam recycling kit and eight-credit CE course at no additional cost. DRNA's recycling services include on-demand pickup, prepaid shipping, recycling and all necessary compliance documentation required under the EPA rule.
Sign up online
, or call 800.360.1001, ext. 2, to start saving today!
1
Receive a free amalgam separator unit when you sign a three- or five-year recycling agreement at $500/year for the BU10-5 and $750/year for the BU10-30, inclusive of all costs.