Volunteering Locally Leads to a Greater Sense of Community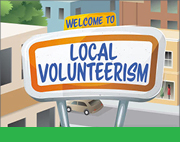 Many people's first thoughts of dental volunteerism are of organized trips to countries around the world, working in limited conditions while adapting to a new culture. While these efforts undoubtedly provide urgently needed care, many dentists are turning to locations much closer to home — often their own communities — to provide volunteer help.
A plethora of organizations — Give Kids a Smile, Dental Lifeline Network and Mission of Mercy, to name a few — exist that connect local dentists to patients in need of care but who might not be able to afford it. Some dentists have gone a step further and created free care days at their own practices.
"One of the main reasons I was drawn to volunteering locally is that there are many people in need right in our backyard," said Eric G. Jackson, DDS, MAGD. "I had no qualms going overseas— that work is wonderful and well-deserved, and there's certainly a place for that, but I wanted to make my volunteerism about making a difference here at home. In addition, it's also very convenient. I have a young family and am a business owner, so I can help a lot of people without being gone for extended periods of time."
In addition to volunteering their valuable clinical skills, dentists can also volunteer their knowledge base. They can present vital oral health information at community meetings, participate in organized dentistry and help develop industry standards, among countless other opportunities.1
"Providing volunteer care to patients who need it not only strengthens and heals my patients, but it strengthens and heals me. It's one of the most rewarding experiences of my career," said Jackson.
Dr. Jackson's Passion for Local Volunteerism
Jackson began his career in 2005. A Chicago-area native, he decided to practice dentistry where he was raised: DuPage County, Illinois. In 2009, he purchased an existing dental practice, which has served residents in his community since the early 1980s.
"We have kids who grew up in this office and are bringing their kids in now," Jackson said. "It's family dentistry, and it's why we're so rooted in this community. One of the central focuses of my business philosophy is that I want to make sure we are the local experts."
DuPage County has a relatively affluent population, possessing a median income of nearly $65,000, more than $7,000 higher than the national average. Prior to the recent national spike in unemployment due to COVID-19, the county had an unemployment rate of 2.5%, which was the second lowest in Illinois and a full percentage point below the national average.2
Although the county has largely been doing well economically, it also has a large population without access to dental care. Out of the more than 930,000 residents, 7.1% are below the poverty line, and 7.5% have no medical insurance. In a recent study, 54.5% of respondents said the county did not provide sufficient or adequate dental services for low-income people.3
Jackson's volunteer work is spread between clinical work in his office, at events and giving public talks. He has provided clinical help in association with the Chicago Dental Society Foundation Clinic, the DuPage County Health Department Dental Health Program and Mission of Mercy. While he has done most of his work in his community, he has also made a two-hour trek for volunteer work in Peoria and a four-hour trip to St. Louis, Missouri. During these events, he has not only performed dental work but also screened for other medical problems — such as suspected cancerous lesions in the mouth — and referred patients to other doctors who could help.
"You have to take care of the teeth, but you also have to take care of the body," Jackson said. "These are people who may be homeless, some are veterans — people who have gotten the short end of the stick in terms of healthcare."
One of the organizations Jackson teams up with — the Chicago Dental Society — has a mission to provide dental care to low-income residents in three Chicago-area counties: Cook, Lake and DuPage. Volunteers work to resolve pain and improve their patients' oral health through "exams, prophylaxis, intraoral and panoramic X-rays, basic restorations, and carefully evaluated extractions," according to the organization's website. The society has more than 100 dental volunteers who offer care, 68 of whom are dentists.4
"I love the Chicago Dental Society's free dental clinic, but it can be hard for many patients to get there. So I try to offer my abilities at different locations," Jackson said.
Jackson has also volunteered with Mission of Mercy, which holds an annual event in Peoria. While the event is postponed until 2021 due to the COVID-19 pandemic, the event usually takes place over two days. The organization's goal is to provide $1 million worth of free dental care to 2,000 patients, focusing on exams, cleanings, fillings and extractions.5
"When I worked for Mission of Mercy, I had patients come from as far as two states away. Some even stayed out in tents in front of the Peoria Civic Center," Jackson said. "This is important work." The connections he has made with his colleagues, the care he has provided and the people he has met doing the work have all left a positive impact. "I've met a lot of good people, and this work provides a wonderful camaraderie with my colleagues," Jackson said.
Dr. Ransdell's Journey Through Volunteerism Locally and Abroad
A Louisville, Kentucky, native, James E. Ransdell, DMD, MAGD, had his first experience with medical volunteerism in college when he took a mission trip to Mexico and Peru. As a student, he worked with dental, physician and construction crews, assisting wherever he could, but he enjoyed working with dentists the most. "The different living conditions in Mexico and Peru opened my eyes to the poverty in the world and made me realize how fortunate I was to be born in the United States," Ransdell said. "But the joy, friendliness and sacrifices of the communities, despite differing standards of living, have always remained in my conscience."
The volunteer experience stayed with Ransdell, and, when he was president of the Louisville Dental Society in 2014, he began looking into creating a free dental clinic for the underserved. While the city had a pop-up clinic, it did not have a location to provide continuing care for patients.
He wanted to focus his energy toward providing hygiene, restorations and prosthodontics. His team spent 18 months in negotiation, and — with his core group of dentists, hygienists, pre-dental students and community volunteers as well as the financial support from the Delta Dental of Kentucky Foundation — the clinic opened in December 2016.
The free clinic is open to patients one to two times per month, with about 20 clinical appointment days every year. The clinic is operated from a larger free community health clinic, the Family Community Medical Clinic, that provides a full spectrum of medical care. Ransdell has also participated in larger volunteer events in Louisville, where groups of volunteers have treated 50–60 patients on several Saturday mornings.
Whether it was his experience abroad when he was younger, a more recent 2007 trip to Nicaragua or his current volunteer experience, Ransdell has only positive things to say about his experiences volunteering and working with people in need.
"It is a wonderful situation to have the skills and abilities to assist your community. Anyone who does this work will tell you that we get back much more than we give. I can't count the number of people I've met through volunteering who have enriched my life and expanded my outlook," Ransdell said. His efforts have not gone unnoticed. In 2019, Ransdell was honored with AGD's Humanitarian Service Award.
He says there are three major unexpected benefits he's received from his volunteer work. "First, it increases your understanding, compassion and appreciation of people from different neighborhoods, cultures and situations, who are sometimes much different than your family, friends and regular patient base. Second, the friendships that I have developed with other volunteers are invaluable. Third, I love the mentorship and mentee opportunities available."
Some of his biggest hurdles have been getting volunteers, developing a team that can provide support and even getting his own family on board in understanding that volunteer work leads to him working extra hours.
"Our biggest limiter is finding dentists and hygienists who will come in and volunteer," Ransdell said. "I am blessed with an understanding wife and family and a staff who all ensure my practice runs smoothly.
The logistics can be challenging because it involves the equivalent of running and staffing several extra dental offices. It can't be accomplished alone. You need a core group of dedicated volunteers for support, guidance and organization."
Dr. Holder's Work in Rural Alabama
Wendy Holder, DMD, MAGD, grew up on a farm in central Georgia. The closest dentist was a 40-minute drive away, and her entire county had only one traffic light. Becoming a dentist was the furthest thing from what she envisioned, but she knew she wanted to go to college, and she ended up at Emory University in Atlanta.
"During my senior year, I was helping my roommate study for the Dental Admission Test. After hours of helping her prep, my interest was piqued, and I decided to take the test myself. I did unexpectedly well," Holder said.
She received a call from the dean of admissions at Emory Dental School, where she spent two years before transferring to the University of Alabama at Birmingham. She graduated in 1987, then promptly embarked on her first medical volunteer experience — a medical mission trip to Brazil to provide dental care for children at an orphanage.
"My week was filled extracting Harriett, a Dental Lifeline Network patient, left, is pictured with Dr. Holder. Dr. Holder's Work in Rural Alabama nonrestorable primary teeth with the help of a local Brazilian dentist," Holder said. "It opened my eyes to how great the need is in our world."
She started a practice in Tallapoosa County, an area in central Alabama that would soon become plagued with diminishing wages and growing poverty. After the area's textile manufacturing plants closed in the early 1990s due to new trade agreements and the globalization of the industry, the county faced troubling times, according to Holder. The poverty rate now sits around 20% — almost double the national average.6 Around 40% of children in the county rely on the subsidized lunch program, and many are given backpacks to keep over the weekend that are stocked with food so they don't miss meals, according to Holder.
In 1998, Holder was in a position where she could help those hurting in her community as the district president of the Alabama Dental Association. She worked to bring the Alabama Dental Association together with Alabama's Dental Lifeline Network chapter to provide volunteer patient care.
Dental Lifeline Network operates the Donated Dental Services (DDS) program, which connects patients in need to one of its 15,000 volunteer dentists or 3,500 dental labs in the United States. Since it started in 1985, DDS has helped facilitate $378 million in donated care to over 120,000 patients.7 AGD is a Dental Lifeline Network strategic partner.
Holder incorporated the DDS program with her personal practice, where they accept one patient at a time. When all dental needs are completed for that patient, they begin another patient's case. "The benefits of being a volunteer means forming real relationships with my DDS patients who are quick to smile, hug and even drop off the occasional homemade cake," Holder said. "With DDS, I am free to provide care to patients without having to navigate the bureaucratic restrictions placed by insurance companies. If my patient needs six crowns at once, I can simply handle it rather than have to split treatments over two years to comply with insurance benefit coverage constraints."
Volunteer dentistry also offers her a way to help her patients who need it most.
"To stop someone's pain or give people back their smile is a way to share my dental skills. I have learned over the years that I am not just fixing a dental problem. Sometimes, I am restoring someone's self-confidence, which helps them get a job and get back on their feet. It can be a life-changer," Holder said.
Assessing the Needs of Your Community
Holder sees likeminded people in the community as the greatest resource for opportunities. "You can find other ways to volunteer through referrals from school nurses, local churches, the local hospital, and other charitable programs like Meals on Wheels," Holder said. "Anyone can help. State dental associations and districts have 'help the community' days. I personally think it is every dentist's responsibility to help others, and state and local dental organizations can help them find ways to serve."
To determine where the need is, Ransdell recommends contacting local organizations. "I'd start with churches — many of them have outreach or aid programs," Ransdell said. "Your local organized dentistry groups are also great resources to find other volunteers and organizations."
There are many options for dentists to explore, and Jackson has had great results by keeping his options open, starting broad and narrowing the options later. Whatever the local needs are in a dentist's community, each experience has its own intrinsic value, according to Jackson.
"It's such a mutually beneficial thing. Everybody wins," Jackson said. "We dentists are prone to isolationism; we stay in our little office for too long. Volunteerism alone, in and of itself, is worth taking part in."
Finding the Best Fit
In the search for each dentist's best fit, Jackson recommends trying many options and finding an established program to see how it works, meeting others and helping build a community. "The first step is figuring out what kind of volunteering you want to do. I'd say try a bunch of volunteer options if they're available. Not everyone lives in an area like suburban Chicago, and there might not be a free clinic near you. You might be able to have your own office be a free clinic if you're willing," Jackson said. "Volunteerism is so fluid. You can even spend your time educating people."
Jackson gives talks at nursing homes about denture use and at high schools about the importance of mouthguards. He creates reduced fee-mouthguards for youth athletes, which helps prevent a variety of dental and health problems.
"Dentistry is part of medicine, and we need to make sure we're part of our community's public health," Jackson said. "Volunteer for it. Figure out your strengths and what you want to do, then do it." When it comes to public speaking, he said, "offer to talk to community organizations. Remember, you're doing the public a favor. It's a nice mental headspace to get out from behind the drill."
Ransdell says that a positive approach to volunteerism — both with patients and other volunteers — is essential. "It is vital to try to have some fun," he said. "The smiles from the patients and volunteers are contagious. Afterward, we usually meet at a local burger restaurant to share stories and laughs. It is a great opportunity to connect with the dentists, hygienists and students."
Since dental services are highly sought after, having a maximum capacity and being realistic about what is feasible is essential for long-term volunteer stability. "If you say yes to everyone, you become overwhelmed. Sometimes it's difficult to maintain that balance or separation," Ransdell said.
Preparing to Create a Successful Volunteer Program
It all starts with people and effort, according to Ransdell. "Find a core group of volunteers before you begin," he said. "Realize that the benefits are directly related to the effort you put into your project."
Jackson says his staff has been essential, including his office manager, whom he says is "worth four people. You have to have a key righthand person, because all of the planning happens while you're working on patients," Jackson said.
He also recommends starting off small before expanding. "Find an event like Veterans Day, and only set aside five one-hour appointments," Jackson said. "Put up fliers at a local establishment, and keep it to conventional surgery — simple extractions, no wisdom teeth, or maybe even just teeth cleaning."
When starting off, Jackson recommends using your own facilities. "Everything is already there for you," Jackson said. "It gets harder when you go mobile."
Dan Kolen is a freelance writer and media producer based in Chicago. To comment on this article, email impact@agd.org.
References
1. "Get Involved: Volunteering." American Dental Association, ada.org/en/member-center/get-involved. Accessed 1 April 2020.
2. 2019 Annual Economic Indicators Report. Choose DuPage Economic Development Alliance, 2020.
3. 2018 Community Needs Assessment. DuPage County Department of Community Services, 2018.
4. "CDS Foundation Clinic." Chicago Dental Society, cds.org/smile/cds-foundation/cds-foundation-clinic. Accessed 1 April 2020.
5. "2021 Mission of Mercy." Illinois State Dental Society, isds.org/foundation/events/mission-of-mercy. Accessed 1 April 2020.
6. "QuickFacts: Tallapoosa County, Alabama." United States Census Bureau, census.gov/quickfacts/ tallapoosacountyalabama. Accessed 1 April 2020.
7. "Our Programs." Dental Lifeline Network, dentallifeline.org/about-us/our-programs/. Accessed 10 April 2020.