Reopening Stories: How AGD Members Are Handling the Transition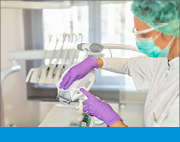 In early May, AGD asked several members from states that had reopened or were opening to share their experiences about preparing for the transition. This week, we share updates on how they are doing as they resume operations.


Q: How are your patients and staff members responding to reopening efforts?
Douglas W. Bogan, DDS, FAGD (Houston, Texas): Our patients, almost without exception, have been eager to get in to see us. They have responded with appreciation of our efforts to protect them and ourselves. Our team members' attitudes have been great; they have really risen to the challenge.
Aparna Sadineni, DDS, AAACD, MAGD (Dublin, Ohio): Very well and positive so far. I am incredibly grateful that all my employees came back without any hesitation; we are fully prepared with all the necessary personal protective equipment (PPE) for our team and patients. My team is incredibly happy to get back to work, and they expressed that they feel safe.
Patients are also very thankful that we can provide the services that they need while exercising the utmost caution.
Deanna H. Snitzer, DDS (Lakewood, Colorado): Most of the patients are very happy to be in the office and back to something "normal." My staff are happy to be back to work and have missed our patients. We all feel that the work we do is important, and we are glad to be doing it.
Steve D. Wegner, DDS, MAGD (Omaha, Nebraska): My team is so happy to be back working again! The phones are ringing off the hook with patients calling and scheduling appointments. There are a few who want to wait a couple months, but the schedule has been solid. We were allowing a little extra time between appointments at first, but, at least in my schedule, we have found that to not be necessary.
Peter Vayanos, DMD (Belgrade, Maine): While confirming patients' appointments, our priority was to make sure they were aware of the steps we had taken to ensure a safe environment. Our patients were also aware that, prior to entering our office, their temperature would be taken, and they had to answer a COVID-19 questionnaire. Having all these guidelines in place, our staff and patients felt comfortable that we were prepared to treat them safely. A small number of hygiene appointments were deferred if patients requested this route, and periodontally involved procedures were given priority. Overall, our emergency patients were eager to have their dental work completed, and our routine patients were looking forward to completing the work that we had started back in March.
Q: Have you been able to maintain PPE levels to sustain your operations?
Bogan (Texas): It was a close call, but we were able to obtain enough PPE to sustain us for several weeks. Obtaining gowns and masks has been an issue. We now have enough gowns to sustain us for several weeks, but only because we received a shipment the morning we opened the office, May 11. We had to order masks from four different sources (KN95s — we found no N95s). By the end of the week before we opened, we had a good supply. We are double-masking KN95s with a level-three mask over them, plus face shields.
Sadineni (Ohio): Yes, I did a lot of research online when we were closed, and I ordered from several different companies, so we are receiving orders day by day and rationing what we have.
Snitzer (Colorado): Yes, sometimes not from my regular sources, but we have what we need.
Wegner (Nebraska): Our PPE supply has been just fine. We were able to find enough masks to keep up with demand.
Vayanos (Maine): PPE has been our No. 1 priority prior to treating any patients. The most challenging part was communicating with our dental suppliers daily to ensure we received supplies on time. We would schedule appointments a week at a time, making sure that we had enough PPE for the doctors, assistants and hygienists. Supplies are limited, which means we are running a single schedule until the end of July and a limited number of patients for our hygienists.
Q: What has been the most challenging obstacle since reopening your practice?
Bogan (Texas): Finding a reliable supply of FDA- and NIOSH-approved masks has been the biggest obstacle. Another challenge is that in my state — and I think in many others as well — hygienists are not permitted to use ultrasonic devices except on periodontal patients. Our hygienists are struggling with the increased time spent hand-scaling.
Sadineni (Ohio): We are a PPO practice, and allowing more time for new protocols and not using the Cavitron are making it difficult financially.
Snitzer (Colorado): Dealing with patient flow not using the lobby has been a challenge. It took a few days to get used to running outside to get people from their cars.
Wegner (Nebraska): The most challenging obstacle has been trying to find a way to deal with the backlog of hygiene/recall patients. We have added an extra hygiene day each week, but we are still far behind.
Vayanos (Maine): The most challenging obstacle was getting used to the new PPE and rearranging our rooms. Our office has three doctors and two dental offices, which means consistency is very important. Our front desk team members also had to rearrange the schedule for the doctors and hygienists to ensure enough time for proper infection control guidelines. N95 masks have been a challenging addition for all of us. Breathing through them is challenging.
Q: Is there anything you wish you had done differently as you prepared to reopen?
Bogan (Texas): Honestly, I feel like we did all we could to prepare given the limitations placed on us by the supply chain issues for critical items. We did our homework and trusted the right sources of information and best practices.
Sadineni (Ohio): I do not think so; I did everything I could with the resources I have.
Snitzer (Colorado): No, I feel that our reopening went as smoothly as it possibly could have.
Wegner (Nebraska): If anything, we overprepared, but that's not a bad thing.
Vayanos (Maine): Dental offices have been practicing proper infection control guidelines for years, so, other than adding the extra guidelines recommended by our state, I feel we dealt with this new norm pretty well. It definitely helped having partners during these times to share some of the responsibilities.
Q: Based on what you have seen since reopening, in what ways do you envision your practice continuing to change in the short term? In the long term?
Bogan (Texas): Going forward, I expect much of what has changed to be long term, just as changes we made in the 80s have been. What I expect to change will be the efficiency with which we carry out these new routines. For example, we are scheduling longer times for many of our procedures than we need as we adapt to the changes. Dental care will cost more to provide, so costs to our patients will reflect this.
Sadineni (Ohio): My practice is going to have more long-term financial implications due to extra PPE costs. Some patients lost their insurance or jobs, so our schedule is going to be impacted.
Snitzer (Colorado): We will continue to follow the guidelines and regulations that are in place for our "new normal."
Vayanos (Maine): For the short term, running a single schedule and limiting our number of patients is what we need to do to ensure that patients and staff are comfortable. We need to keep everyone safe at this point even though we feel obligated to see everyone as soon as possible. We have deliveries of crowns, partials, dentures, bridges, implants, etc. that we are still waiting to receive. In the long term, our goal is to lengthen our appointments and perform more dentistry at one time versus scheduling multiple appointments for one patient.