AGD Monitoring Proposals For Future COVID-19 Relief Packages
by

AGD Advocacy

May 26, 2020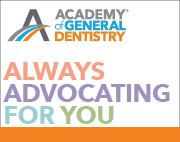 The AGD is advocating for general dentistry and working to respond to member needs throughout the COVID-19 pandemic. You can view all advocacy efforts in relation to the crisis and read about how the AGD is taking action on our members' behalf on the AGD's COVID-19 Advocacy webpage. Please be sure to visit this page often, in addition to reading our bi-weekly "Capitol Connections," as issues are arising and evolving rapidly at this time.
For general COVID-19 resources and information, please visit https://www.agd.org/coronavirus.
House Passes CARES 2.0 Package
On May 15, the House passed H.R.6800, the Health and Economic Recovery Omnibus Emergency Solutions (HEROES) Act, by a vote of 208 to 199. The legislation, referred to as "CARES 2.0," is a $3 trillion COVID-19 stimulus package and contains many of House Democrats' legislative priorities. Provisions in the package included:
Additional individual stimulus payments
$1 trillion in funding for state and local governments
A grant program for employers to provide pandemic premium pay
Expansion of the employee retention tax credit
Extension of the $600/week federal pandemic unemployment compensation
An OSHA COVID-19 exposure standard for certain industries
Codifies requirement for state Medicaid programs to cover non-emergency medical transportation (NEMT)
$100 billion in additional funding for the HHS Healthcare Provider Relief Grants
Changes to COVID-19 paid leave benefits
Senate Majority Leader Mitch McConnell (R-KY) has signaled that CARES 2.0 would not be considered in its current form, and the White House has also expressed no interest in the proposal as it stands. The package is viewed as an opening to negotiations on the next COVID-19 relief bill, which is unlikely to materialize until June at the earliest.
Impact on General Dentistry: AGD is closely monitoring the various proposals being floated for possible inclusion within future COVID-19 relief packages, and is advocating for several priorities of great importance for dentistry. AGD will continue to be involved in the process of legislative negotiations between the various stakeholders in Congress.
AGD Leads Effort to Advance Business Interruption Insurance Reformg
In a May 19 letter to House and Senate leaders as well as the House Financial Services and Senate Banking committees, AGD spearheaded an effort with members of the Organized Dentistry Coalition (ODC) to call for commercial business interruption (BI) insurance reform. The letter requests that provisions are included in the next COVID-19 relief package to address the current hardships caused by virus-related exclusions in BI policies, in addition to reforming the BI insurance market to safeguard policyholders in the future.
Many businesses that currently hold business interruption insurance have recently learned that their policies do not cover government-ordered business shutdowns caused by a national emergency or viral pandemics, such as the current COVID-19 crisis. This lack of coverage has had an extremely negative impact on the businesses under the assumption that the insurance policies they have been paying premiums on for years would provide support during this crisis.
Impact on General Dentistry: AGD supports efforts in Congress, such as H.R.6494, the Business Interruption Insurance Coverage Act, to reform the status quo as it relates to business interruption insurance. AGD is also advocating for immediate relief for those policyholders who are being negatively impacted by BI insurance exclusions during the current COVID-19 crisis. Many dental practices have had to shut down entirely or only provide emergency services, which has led to a significant drop in patient volumes and collections for many practices.
PPP Loan Forgiveness Application Available
On May 15, the U.S. Small Business Administration (SBA) and Department of the Treasury released the Paycheck Protection Program (PPP) Loan Forgiveness Application and Instructions for borrowers. The form and instructions inform borrowers on how to apply for forgiveness of their PPP loans under the CARES Act. Additionally, SBA is expected to issue regulations and guidance soon to assist borrowers further as they complete their applications.
The form and instructions include several measures to reduce compliance burdens and simplify the process for borrowers, including:
Options for borrowers to calculate payroll costs using an "alternative payroll covered period" that aligns with borrowers' regular payroll cycles
Flexibility to include eligible payroll and non-payroll expenses paid or incurred during the eight-week period after receiving their PPP loan
Step-by-step instructions on how to perform the calculations required by the CARES Act to confirm eligibility for loan forgiveness
Borrower-friendly implementation of statutory exemptions from loan forgiveness reduction based on rehiring by June 30
Addition of a new exemption from the loan forgiveness reduction for borrowers who have made a good-faith, written offer to rehire workers that was declined
Impact on General Dentistry: With many dental practices utilizing the PPP loan program to cover expenses during this crisis, AGD welcomes the SBA opening up these applications for loan forgiveness. Small businesses are eligible to seek forgiveness after the eight-week covered period, which begins with the disbursement of their loans. AGD and allied dental organizations are working to have Congress increase the flexibility within PPP loans through changes such as having PPE costs classified as an eligible expense and modifying the loan forgiveness period.
Senators Call for Protecting Access to Dental Care in COVID-19 Relief
Senator Ben Cardin (D-MD) led a group of Senators in a letter to Senate leadership asking that any future COVID-19 response legislation includes strong measures to maintain dental coverage for Americans who have lost their employer-based benefits and to ensure access to pediatric and adult dental coverage through the Medicaid program.
The letter outlines two pathways to achieving such protections. First, it calls for an increase in the Federal Medical Assistance Percentage (FMAP) to help states facing impending budgetary challenges, which could result in dental spending cuts. Secondly, the letter requests that a $75 million public oral health infrastructure fund be established to support state and local health departments in covering the costs to improve oral health care delivery, data collection, infection control and workforce training.
Impact on General Dentistry: AGD appreciates the effort by this group of senators, especially Senator Cardin, to raise awareness regarding the importance of finding solutions to overcome barriers Americans may face in accessing dental care. AGD is hopeful that the provisions the senators request will be considered and included in future COVID-19 relief legislation.
Senate Judiciary Committee Examines Liability Issue
On May 12, the Senate Judiciary Committee met for a hearing titled Examining Liability During the COVID-19 Pandemic. Members of the committee discussed the various concerns related to reopening the country while dealing with COVID-19-related liability issues that businesses and public institutions may face in the process.
At the hearing, Senate Judiciary Committee Chairman Lindsey Graham (R-SC) said: "The federal role in creating liability protections needs to be limited. We're not going to preempt all state laws here about everything. We need to make sure that bad actors are not given a break, but that the people who are trying to do it right can reopen their businesses in their communities, schools, and colleges with the assurance that if you practice the right procedures that you don't have to worry about getting sued on top of everything else."
Senate Majority Leader McConnell (R-KY) has echoed that sentiment and said on other occasions that Congress must agree to change the current liability system before he'd agree to other costly proposals in a future COVID-19 relief bill. House Speaker Nancy Pelosi (D-CA) has indicated she's open to the idea of protecting businesses that follow government regulations and guidelines, and some moderate Democrats have expressed support for some liability protections.
Impact on General Dentistry: AGD is actively following the liability issue, as a wide range of exposure-related lawsuits could be brought against businesses, including dental practices, once the economy is reopened. A threat currently exists for practices as patients, employees, members of the public, etc. could be potentially exposed to COVID-19 in a dental practice, and the practice could be liable if it were the result of a practice's particular action, or failure to act, that resulted in the claimant becoming ill.
FDA Removes Certain KN95 Masks from Authorized List
On May 7, the FDA reissued the Emergency Use Authorization (EUA) for Non-NIOSH-Approved Disposable Filtering Facepiece Respirators Manufactured in China (KN95s) and removed several masks from its authorized list. Several respirators failed to demonstrate a minimum particulate filtration efficiency of 95% in testing conducted at NIOSH.
Specifically, respirators from the following manufacturers failed during the testing:
CTT Co. Ltd
Daddybaby Co. Ltd
Dongguan Xianda Medical Equipment Co., Ltd.
Guangdong Fei Fan Mstar Technology LTD
Guangdong Nuokang Medical Technology Co., Ltd.
Huizhou Huinuo Technology Co., Ltd.
Lanshan Shendun Technology Co
NIOSH regularly updates its list of test results for respirator efficiencies, which may be accessed here.
Impact on General Dentistry: AGD strongly encourages members to evaluate and be aware of the source and authenticity of their PPE. Several Chinese PPE manufacturers have informed NIOSH that their respirators are being counterfeited. Members should take all necessary measures to ensure that their PPE is effective and legally authorized for use to safeguard themselves from any potential liabilities.
In the States
The AGD has worked diligently with constituents to help address issues during the COVID-19 emergency. This has included providing resources, creating state-specific action alerts, and helping compose and send letters to government entities that express concerns of general dentists within a state. We are continually monitoring any action by state and territory governments and assisting constituents as new issues arise or persist.
It is strongly encouraged that AGD members review all advocacy efforts related to COVID-19, which are highlighted on our coronavirus page. Additionally, members should visit the AGD Action Center for access to specific efforts and to take action on pertinent issues.
If you would like more information on legislative matters in your state or are interested in carrying out advocacy efforts on AGD issues, please contact us at advocacy@agd.org or visit the AGD's Advocacy webpage.