Make Sure Your Transcript is Up to Date
by

AGD Staff

May 11, 2020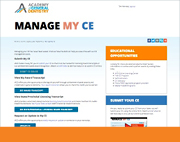 Did you know that organizations with current PACE approval should be submitting verification of attendance to AGD on your behalf? Whenever you register for a course, AGD recommends you check whether the organization has current AGD PACE approval on the
Find a PACE Provider
page of the AGD website.
If the organization is listed, make sure to provide them with your AGD membership ID number, and verify with them that they will submit the information to AGD. If the organization does not have current PACE approval, you can also
submit a copy of your attendance form online
to be included on your transcript. To avoid duplications, AGD recommends you
check your transcript
before submitting any new CE.
For a list of upcoming courses from PACE-approved providers,
search the AGD CE Directory
.