How U.S. Air Force Dentists Are Confronting COVID-19
by

Maj. Doug Grabowski, DDS, and Maj. Kaitlin Lee, DDS

Apr 27, 2020
In a matter of weeks, COVID-19 drastically changed daily life for billions of people. A new normal quickly emerged for transportation, business and healthcare around the world. In this extraordinary period of change, the U.S. military faces a unique challenge — continuing its global mission while keeping the force healthy and ready for operations.

During this unprecedented time, U.S. Air Force dentists, hygienists, dental technicians and lab technicians continue to answer our nation's call. With nonessential dental procedures being delayed servicewide, support by Air Force dental personnel is taking on a different form.

The U.S. Air Force operates 79 dental clinics, with a mission to support global operations and ensure a dentally ready force through Trusted Care. We continue to execute our primary mission by providing emergency dental treatment to expeditionary airmen, ensuring global readiness.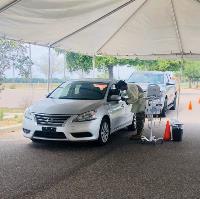 Beyond delivering emergency dental care, the Air Force Dental Service has stepped up to operate hospital entry screening stations, conduct mission-critical screenings for air crew and passengers before missions, triage potential COVID-19 patients by phone, and augment the efforts of fellow Air Force healthcare providers. This service has allowed Air Force nurses and medics to focus care in other critical areas.

"Military medicine is providing assistance in
(Fig. 1) unprecedented ways," Defense Health Agency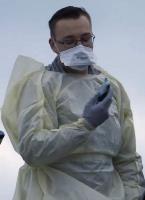 Director Lt. Gen. Ronald J. Place, MD, recently wrote. "Shifting focus from this primary mission [of force readiness] carries risk; however, after two decades of conflict, we are well prepared to both identify risk and develop strategies to mitigate it."

As Air Force bases rapidly establish installation quarantine facilities and respiratory clinics, you will find dental airmen serving on the front lines by setting up tents, directing traffic, taking patients' vital signs and volunteering for shifts. "Every medical provider in [Military Health] is a generalist," said Place. Dental airmen exemplify this through their selfless service and innovative (Fig. 2) leadership.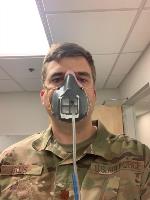 For example, dental airmen at F.E. Warren Air Force Base (AFB) in Wyoming have partnered with bio-environmental engineering airmen to 3D-print face covers and shields using the National Institutes of Health's approved design and are working to optimize proper fit and filtration. The covers and shields are for use in combination outside of healthcare settings. They will initially be used by Security Forces and other nonmedical first responders across the base as part of their comprehensive personal protective armamentarium, which is in short supply globally.
(Fig. 3)

F.E. Warren AFB's Chief of Dental Services is also working with base leadership to digitally map and track where COVID-19-positive patients were located prior to the onset of symptoms. The data can help leaders locate potential sources of infection and ensure population health and safety.

At Hanscom AFB in Massachusetts and Los Angeles AFB in California, dental airmen are supporting their colleagues in the pharmacy. In addition to screening patients upon arrival, they help process orders, issue prescribed medications and screen phone requests. Supervisors are greatly appreciative, as dental staff are "learning quickly and making instant impact, allowing us to keep up with the increased demand."

Brig. Gen. Sharon R. Bannister, DDS, assistant surgeon general for dental services, recognizes the role dental airmen are playing. "I remain in awe of the innovation our dentists, dental technicians, lab technicians and hygienists bring forth each day," she said. "Their passion and dedication to the mission is unwavering. To know members of the dental community are inserting themselves into the fight makes me proud to be a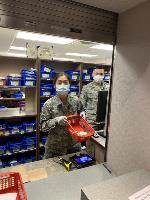 part of this amazing Air Force Dental Service family. Thanks to the team for doing and showing what I have known for years — the dental community is always ready and prepared to be part of the solution."

As the world continues to battle this pandemic, your military remains vigilant and ready to defend our nation. Dental airmen continue to play a critical role in ensuring the Air Force is always ready to fly, fight and win. <Fig. 4>

(Fig. 4)


Figures
Fig. 1. Capt. (Dr.) Haider Aljewari screens patients at MacDill AFB, Florida.
Fig. 2. Airman 1st Class Trevor Huffaker takes patient vitals at Moody AFB, Georgia.
Fig. 3. Maj. Andy Ellis tests a 3D-printed face cover at F.E. Warren AFB, Wyoming.
Fig. 4. Airman 1st Class Kkotnym Yi assists in the pharmacy at Los Angeles AFB, California.