On the Road Again
I have begun traveling to give my implant lectures again. I've gone to West Palm Beach, Florida; Charlotte, North Carolina; Pensacola, Florida; and Newport Beach, California. I always depart from the Detroit Metropolitan Airport, which typically has not been busy. People seem to be thoughtful and respectful of each other. On one of my trips, I had a layover in Salt Lake City, where an airport storefront provided immediate COVID-19 tests. I had not seen that before. In California, I was surprised by how open businesses were. I was not expecting that. Again, everyone seemed nice and comfortable with the current circumstances.
During my lectures, it's so nice to be in front of a live audience again. Being able to physically see and interact with the attendees is stimulating. Hopefully, we're through the worst of the pandemic, and live programs will become more prevalent.
Promoting AGD membership has become a focal point during my seminars. As I look into my audience, I see booth young and mature faces. When I ask who belongs to AGD, only a few hands are raised, which is discouraging. I'll usually step up onto my soapbox and explain how important AGD is to me because of the outstanding continuing education opportunities and the advocacy provided by AGD leadership that benefits all general dentists to such a high level.
During one of my California lectures, I had the pleasure of having two state AGD leaders in attendance. Timothy W. Smith, DMD, FAGD, current president of the Alabama AGD, stood up and reiterated my call to action and what AGD can accomplish for all general dentists. Then Leon C. Chung, DDS, current Northern California AGD treasurer, reinforced our thoughts. Afterward, we were able to chat about the current condition of our Academy and the importance of recent grads, women and minority colleagues getting more involved.
During my trip to Charlotte to mentor at the Engel Institute Dental Implant Training program, I was supposed to board my flight at 5:30 a.m., but the line at Metro Detroit was nearly out the door through security. Thankfully, I got through quickly. The flight was completely full.
The Charlotte Douglas International Airport was also exceptionally busy. After a quick cab ride to the lecture location, I spoke to a full course with 30 in attendance.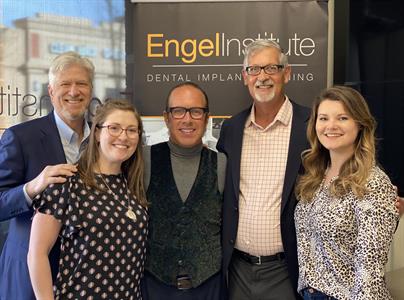 Bruce L. Cassis, DDS, MAGD, AGD president, was also in attendance to observe two of his protégés — Margaret J. Jones, DDS, and Julia Meadows, DDS — who were taking this three-day course. Later, over dinner with Todd Engel, DDS, Cassis and I discussed some potential ideas to mentor our more recent graduates and introduce them to the benefits of belonging to the AGD family.
The live patient portion of the seminar the next day was amazing. Each participant was able to place a dental implant in one of our preselected patients. I personally think that is absolutely the best way to learn — a mentor dentist supervising treatment on a cooperative patient. I sure would like to see our recent graduates continue the education process with programs like this in all the other treatment areas. I would love to hear your opinion on how we can best connect with all general dentists, especially the future leaders of our distinguished organization.
Photo:
Drs. Kosinski, Jones, Engel, Cassis and Meadows enjoy live patient implant training at the Engel Institute in Charlotte, North Carolina.