Manuel Cordero, DDS, CPH, MAGD, Named Executive Director of the Hispanic Dental Association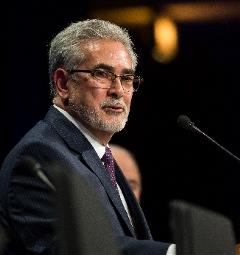 The Academy of General Dentistry congratulates Manuel A. Cordero, DDS, CPH, MAGD, who has been named executive director and chief executive officer of the Hispanic Dental Association (HDA), effective November 24, 2018. A native of Puerto Rico, practicing general dentist in New Jersey and immediate past president of the Academy of General Dentistry (AGD), Cordero will continue to operate his dental practices while serving in this role.
Cordero says, "Joining the staff of the HDA will provide me with the opportunity to continue to serve organized dentistry, combining my passion for dentistry with my heritage, and support others in a very meaningful way. I look forward to magnifying how organizations can synergistically work toward common goals. As Martin Fierro said, 'En la union está la fuerza,' which means, 'United we stand strong.' This role will fulfill my lifelong pursuit to serve our communities and improve the oral health and overall health of their members."
Since 2008, Cordero has served as an HDA trustee and continues to be a mentor and consultant to its leadership. Cordero has served as an advocate for dental information to Hispanic and Spanish-speaking communities. He was AGD's first Hispanic spokesperson, and a regular contributor to AGD's consumer education resources, providing Spanish and French translation for in-office support materials for dentists in the U.S. and Canada. His efforts increased AGD's outreach to other ethnic populations.
"The HDA will truly benefit from Dr. Cordero's leadership," said Neil J. Gajjar, DDS, MAGD, AGD's newly elected president. "With such passion for the profession, I know he will ensure that even more people learn about the opportunities in dentistry. I look forward to working with Dr. Cordero and the HDA as we build on his collaborative relationship between the two organizations to better serve our communities."
A leader in organized dentistry, Cordero served as president of the Society of Ibero Latin Medical Professionals and received a Distinguished Award from the Hispanic American Medical Association. He has been a member of AGD since 1987 and HDA since 2008.
Collaborating with other organizations to advance the work of general dentists, Cordero has been a member of the American Dental Association since he joined AGD. He is past president of the Richard V. Tucker Study Club Academy, past regent of the Academy of Dentistry International, and is currently Councilor of the Academy of Operative Dentistry.
Dr. Cordero is a proud alumnus of Temple University Kornberg School of Dentistry.