An Overview of Dental to Medical Cross-Coding
by

Dilaine Gloege, CDA, CDC, and Glenda Hood, MA, CPC

Nov 17, 2017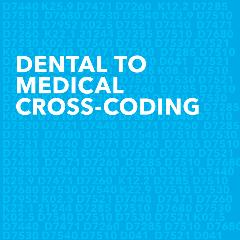 Dental and medical providers have long recognized a link between oral health and other diseases. For example, a patient with uncontrolled diabetes may have a variety of oral health complications, including dry mouth, an increased tendency to develop cavities, gingivitis and general poor healing of oral tissues following dental procedures. There is also some evidence linking poor oral hygiene and chronic gingivitis to heart disease.
"Oral Health in America: A Report of the Surgeon General," published in 2000, recognized that oral health is more than healthy teeth. This report states, in the Executive Summary: "all primary care providers can contribute to improved oral and craniofacial health. Interdisciplinary care is needed to manage the oral health-general health interface. Dentists, as primary care providers, are uniquely positioned to play an expanded role in the detection, early recognition, and management of a wide range of complex oral and general diseases and conditions."
In 2014, the Harvard School of Dental Medicine established an Initiative to Integrate Oral Health and Medicine. This initiative includes leaders in the health care community and academics, with the goal to conduct research and develop ideas into the integration of oral and primary health care.
Considering the reports and initiatives mentioned above, there is reason to believe the trend toward integration of dental and medical health will continue. With this, there will be an increased need for dental providers to submit claims to medical payers.
When to Submit to a Medical Plan
Even today, the dental team is faced with a growing number of reasons to communicate with patients concerning their medical health care coverage. Changes in our health care system have resulted in a growing trend of general dentists being asked to submit dental procedures to a patient's medical plan. Sometimes, the patient may insist that a medical claim be submitted. Pediatric dental benefits may be embedded in the medical plan, which is especially true for Patient Protection and Affordable Care Act plans. In addition, Medicare Advantage plans may also have basic dental benefits embedded in them.
Many dental payers require surgical extractions be filed with the patient's medical payer before submission to the dental payer, even if for a denial. While some may consider this requirement to be a burden to the dentist and a "stall tactic" for the dental payers to avoid payment, the truth is, some medical plans do allow reimbursement for surgical extractions for certain medical conditions. For example, it is now common for a medical plan to provide benefits for impacted third molars.
Many procedures such as biopsies are considered medical in nature; therefore, dental plans will typically deny a claim for biopsies and require that the procedure(s) be submitted to the patient's medical plan for reimbursement consideration. Medical plans, including traditional Medicare, provide coverage for biopsy and excision of lesions.
Accident-related dental treatment is considered medical and should be submitted to the patient's medical plan. The dental claim must indicate that the services are related to an accident, and a dental plan may defer trauma-related services to the medical plans. Treatment for trauma-related procedures may quickly exhaust the dental plan's annual maximum of benefits; therefore, it is beneficial to the patient that all trauma-related claims be submitted to their medical plan. While trauma may be subject to the medical plan deductible and coinsurance, in some cases, the medical plan may pay trauma-related dental care at 100 percent, not subject to the medical deductible. Additionally, dental implants, when required due to replacement of teeth lost due to trauma, may be reimbursed.
Other common oral surgery procedures that may be considered for reimbursement by the patient's medical plan are frenectomies and bone grafts, when medically necessary. Frenectomies are frequently performed on patients, including newborns with conditions such as tongue-tie, feeding disorders, etc. Bone grafts may be paid when related to treatment for head and neck cancer or trauma.
Treatment for temporomandibular joint dysfunction (TMD/TMJ) is rarely covered by dental plans but often covered by the patient's medical plan. This treatment may include orthotic splints to treat the condition.
Oral appliances to treat obstructive sleep apnea (OSA) are considered medical and are reimbursed by medical plans, including Medicare. Documentation requirements vary by plan. Some plans may require a supervised sleep study to consider benefits. Additionally, the doctor treating the OSA should prescribe the appliance. Only a licensed dentist, practicing within his or her scope of practice, can fit an oral appliance.
As mentioned previously, a patient sometimes insists that a dental procedure(s) be submitted to their medical plan, even when the dental team knows it is not a covered benefit. As a courtesy to the patient, a medical claim is often submitted to maintain the patient-doctor relationship.
Considerations for Submitting Claims to a Medical Payer
There are multiple occasions when it may be either required or advantageous to the dental practice to submit a medical claim. There are a few basic things a dentist and team need to know when submitting claims to a medical payer.
Code sets are the language used to communicate with all insurance payers. Dental payers accept the Current Dental Terminology (CDT) and ICD-10-CM (for some dental payers) using the American Dental Association (ADA) 2012 Dental Claim Form. Medical payers accept a combination of code sets to fully communicate with medical payers. They are Current Procedural Terminology (CPT®), CDT (accepted by some payers), ICD-10-CM and Healthcare Common Procedure Coding System (HCPCS). The current form accepted by medical payers is the CMS 1500 (02-12) Health Insurance Claim Form. It is important to use the most up-to-date form, whether it be a dental or medical claim. The referenced forms were updated in 2012 and implemented April 1, 2014.
Submission of dental procedures to the patient's medical plan may sound complicated and overwhelming, but dental team members can easily learn how to successfully submit dental procedures to a medical payer.
Dilaine Gloege, CDA, CDC, is a coding and billing support specialist with over 30 years of dental experience. Glenda Hood, MA, CPC, is an AAPC-certified professional coder with 30 years of experience, working clinically and administratively with medical professionals. To comment on this article, email impact@agd.org.