Texas AGD's FellowTrack Increasing in Numbers
by

AGD Constituent Services Representative

Nov 26, 2018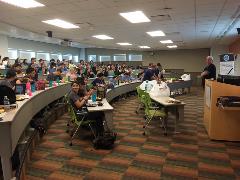 We are in the heart of the school year, and the three FellowTrack programs in Texas — Houston, Dallas and San Antonio — are in full swing. The first event of the school year drew over 50 students at the University of Texas Health Science Center at Houston School of Dentistry. They attended a lunch and learn with Texas AGD then-President Jeff Geno, DDS, MAGD, that covered the benefits of being a member of the FellowTrack program (pictured).
"Dr. Geno captured the attention of a full house of students at our Houston AGD FellowTrack interest meeting," said Melba Salazar, UT School of Dentistry at Houston AGD FellowTrack president. "Dean Valenza and Dr. Cooley also emphasized the importance of organized dentistry to their careers and what AGD has offered them. Dental students, ranging from DS1's to DS4's, are looking forward to our lineup of captivating speakers and CE events this year," she said.
Thanks to the work of FellowTrack directors and Texas AGD staff, FellowTrack membership applications in the Texas AGD are up 50 percent from last year.
Dallas FellowTrack has offered courses on intro to AGD, emergency medicine and legislative news, while San Antonio's has been on occlusion. Houston's other CE offerings were on dental technology and branding your practice to stand out. To learn more about Texas' FellowTrack, click here.