Dr. Howley Chases Storms and the Limits of His Own Abilities
by

AGD Staff

Apr 24, 2023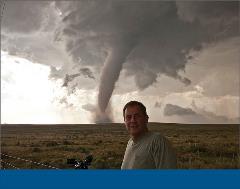 Named in honor of an AGD leader and faculty member of Temple University Dental School, the Albert L. Borish Award honors an individual who has demonstrated innovation, leadership and dedication to the advancement of dentistry. The 2022 winner, Thomas A. Howley Jr., DDS, MAGD, takes dedication to the profession to the next level — everything that made him worthy of the Borish award are accomplishments that came after his medical doctors told him he needed to stop practicing dentistry. After a series of automobile accidents and resulting surgeries, Howley was forced to give up his practice and told to stop all travel and volunteer activities; instead, he set to work finding things he could still do to advance the profession and continued to push his own capabilities. Along the way, he also picked up an unexpected and definitely not medically sanctioned hobby — storm chasing — and excelled at that, too. He shared his story of perseverance with
AGD Impact
.
AGD Impact
: What went through your mind when doctors advised you to stop practicing dentistry due to your accidents? Why was it so important to remain engaged in the profession?
Howley:
To be honest, I have never been particularly good at accepting being told that there is something I can't do. That just motivates me to prove that I can indeed do it. After the accidents, the surgeries and the rehabilitation, I just tried to find ways to do whatever I could, even if it was at a reduced level for several years. I decided I would continue my work with AGD and hopefully find ways to remain active because it was worthwhile and rewarding to me. It was important to remain engaged because it truly is very rewarding to help an organization, especially a volunteer organization, prosper and move forward. It is rewarding to feel like you are making a meaningful impact on the group and on the profession. My advice to anyone experiencing similar hardships would be to never give in, never quit, and never let things beat you down. Everyone is subject to obstacles, challenges and hardships. It isn't about what you can no longer do, but rather finding what you can still do.
What positions have you held in AGD, and why do you believe the organization is important?
I joined AGD right out of dental school and was attracted to the continuing education aspect. I earned my Fellowship in 1987 and Mastership in 1992. Over the years, I served in nearly every committee, chair and officer slot at Pennsylvania AGD, including interim executive director for a brief time. I moved on to serve on the National Sponsor Approval Program (now PACE) committee, then later as chair. I served on a number of committees and as AGD secretary, vice president, president-elect and president in 2004–2005. After that, I served on the AGD Foundation board for five years.
To me, AGD has always been the premier organization for general dentists. There are a number of great dental organizations that fill important roles, but AGD is different from all of them. AGD is committed to the idea and goal of making better dentists. It advocates for general dentists as it should, but what sets it apart is its commitment to continuing education. Members of AGD commit to lifelong learning to make themselves better dentists and thereby provide better care for their patients.
Tell us about your special hobby, storm chasing. What inspired you to start? What have you learned from your experiences?
Since I was young, I have been fascinated by storms, particularly tornadoes. I loved "The Wizard of Oz," not because of the witches and story but because of the tornado in it. I always wanted to hunt tornadoes, and, since I had forced free time after the car accidents, I self-taught forecast meteorology. After the movie "Twister" came out, the few people chasing tornadoes realized there were others willing to chase, and thus pay-to-go storm-chasing companies were born. I started as a guest on tours and evolved into a paid guide and forecaster for the best known and most successful company, Silver Lining Tours, run by Roger Hill, who became a great longtime friend.
Through being a tour guide, I learned that there are all kinds of different people in the world, but, at heart, they aren't really that different from one another. They all are worth knowing and can be quite enjoyable to travel with and share a passion for something unusual, like tornado chasing. I learned that if there is something you want to learn or do, even if it seems a bit out there, you can absolutely do it. You just need to commit the time and energy to figuring out how best to accomplish it.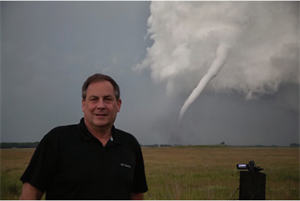 Do any particularly scary or exciting storms come to mind?
The Joplin, Missouri, tornado of May 22, 2011, is by far the worst scenario I have ever experienced. We were in town when it formed, and it blew out all the power, so the traffic lights went out and no one would go. All the cars just stayed there, blocking us in and waiting politely. We could see a massive tornado moving directly toward town and were yelling at people to get away, seek shelter and stop blocking the roads. I had to just lay on the horn and get so close that people were forced to move, allowing us to maneuver around cars and along sidewalks to escape. We cleared the tornado by about a quarter of mile and with about 40 seconds to spare. Many of the over 160 fatalities were on that exact road. After that, we committed to never storm chasing in a town with a severe storm so close, since we can lose control of the situation and are dependent on others, who generally panic. Of the roughly 300 tornadoes I have seen, that was the worst.