One Checklist Away
by

Clayton Sorrells

Feb 27, 2023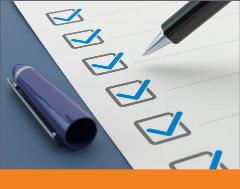 It is incredible that everything I am currently preparing for is exactly what I was hoping for four years ago. My wife and I are looking for a house, and I am months away from graduating. Everything seems to be going quickly. It can be overwhelming, but having a checklist can help break tasks into manageable chunks. A checklist was vital for me this last year of dental school, and I hope to shed some light on what you should have on your checklist if you are going into your final year.
The first thing you need to have on your list is passing your last year of dental school and graduating. While this seems rudimentary, we can become so wrapped up in deciding where we want to live, finding the perfect job or counting how much money we will make that we forget we have requirements to finish before graduating. It is helpful to remember that, in a few short months, you will be a practicing dentist calling the shots. Now is the time to challenge yourself while surrounded by knowledgeable professors who can offer advice when you have a complex case. Making it through the first three years of dental school is challenging, but getting too far ahead of yourself can make your last year harder than it needs to be.
The order of the second and third checklist items can differ depending on whether you want to go straight into practice or if you would instead go through a general practice residency (GPR) or an advanced education in general dentistry (AEGD) program. If you want to go straight into practice, think about where you would like to live first. If you would like to do a GPR or AEGD, your location might be less vital since the type of program could be more important, and you will only be living there for a short time. The best way to decide between going straight into practice or a GPR/AEGD is to talk to other dentists. You also know your skill level and whether you feel comfortable diving into practice or if you could use some more training. Residency programs can also benefit those looking to do more complex cases as general dentists. This is a big item on your checklist and one that deserves a lot of thought.
As I said, this next item could move to No. 2 if you go straight into practice. My next checklist item is deciding where you want to live after graduation. A lot of us, myself included, find comfort in practicing close to where our roots are. Many want to try something different and practice in another state. This point may seem simple, but it opens up a few more doors. When you decide where you want to live, you need to check and see which national board exam that state accepts, if it requires you to go through an AEGD or GPR first, and what other requirements it may have for licensing. Once you decide on the area you want to live in, you can begin to look at housing. Having this bullet point on your checklist early will get you ahead of the game and make your last year much less stressful.
Finding a job is the next item on the checklist. If you decide to do a GPR or AEGD, great. You can skip this item for now and reference it later. You have already narrowed down the area you would like to live in, which makes job hunting less daunting. If you do not know anyone in the area you are moving to, the best way to find a job is to visit dental offices and speak with dentists in person. You never know when a quick conversation can turn into a job opportunity — or they might know another dentist looking for an associate. Other options are to look on job posting sites (such as AGD's Marketplace & Career Center at marketplace.agd.org) and Facebook groups, but it is nice to see the practice in person first.
The final checklist item, financial planning, is a little more complex and varies significantly from person to person. Whether you are graduating from dental school debt-free or have a significant amount of debt, it is always a good idea to have a financial plan. A financial plan can include disability insurance, life insurance, malpractice insurance and your plan to pay off your student debt. Some people feel comfortable managing these items independently, but some feel more comfortable working with a financial planner. If you can have a plan in place for these items before graduation, it will take a lot off your plate once you become a practicing dentist.
Graduation is 106 days away — not that I am counting — and it seems like the four years of dental school have gone by in the blink of an eye. I have made many checklists while in school, and they have helped me tackle some of my biggest challenges. It is hard to believe this is my final checklist while in dental school, but I am looking forward to making at least a couple more as a practicing dentist. If life seems overwhelming, sit down, make a checklist, and check off boxes one at a time.
Clayton Sorrells is the fourth-year AGD student representative at the Louisiana State University School of Dentistry. To comment on this article, email
impact@agd.org
.