Testing the Tools: Reviews to Help Your Practice
by

Ross Isbell, DMD, MBA

Jan 30, 2023
AGD Impact
regularly features a Testing the Tools column with practical reviews of some of the latest dental products. This month, reviewer Ross Isbell, DMD, MBA, a general dentist in Gadsden, Alabama, tested a flowable composite material, a mineral trioxide aggregate (MTA) material and hybrid composite blocks. Stay informed on equipment that helps you and your practice by checking out his reviews.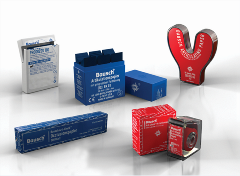 Paper that Hits Its Mark

Articulating Paper
Bausch
bauschpaper.com
Other than a restoration looking the way it is supposed to, achieving a comfortable and functional bite is our most important goal from a patient's perspective. While there is a certain amount of feel and experience that goes into crafting the perfect occlusal relationship, the observation of how teeth interact through articulation markings is the most standard way. However, not all articulating paper systems are created equal. Even though I still describe it as "typewriter paper" to my patients who are old enough to understand, the Bausch articulating paper system is far more advanced than that. Covering a wide range of thicknesses, from 8 to 200 micrometers, the Bausch paper and film system uses an advanced chemistry of fluid-releasing capsules that rupture upon pressure. Placed on a strong, thin, waxy paper, these capsules are highly effective at leaving brightly colored marks on wet or dry surfaces and even on metal. In my experience, they are typically able to continue marking 10–15 times reliably per sheet before tearing or becoming ineffective. A variety of options are available, such as precut strips, horseshoes and tape rolls. My favorite option is the 40-μm precut sheets with red and blue opposing sides. I also keep some generic 200-μm sheets at the office, but, to achieve the same quality of marking, I usually need to double fold. The 40-μm sheets are so thin that they can feel flimsy, but they won't soak up saliva. Also, since they are so thin, they are much easier to manipulate around a crown during a seat appointment to mark contacts for adjusting. The Bausch system is among the best and designed for a variety of delivery options. The real question is: Which will be your favorite?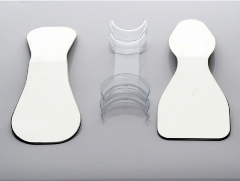 Mirror, Mirror, Has It All

Personal Mirror/Retractor Kit
Lester A. Dine Inc.
dinecorp.com
One of the most important parts of modern-day dentistry is being able to demonstrate that you can, and did, perform dentistry — and hopefully that it was done well. That seems like a silly statement, but how much of our process is dedicated to taking radiographs, diagnostics and photos before, during and after a procedure? Recently, I've been trying to make capturing clinical procedures a little more exciting than just a data grab and have been upgrading my extraoral photography setup. Mirrors, to me, have always been an annoying part of capturing a full-mouth image because I always grab the wrong size or the one that was scratched up. Lester A. Dine's stainless steel mirror set has helped address both of those problems and is allowing me to take better photos more easily. As compared to most glass mirrors, the stainless-steel backing makes it significantly more resistant to scratches. The set of two double-ended mirrors gives you a full range with three sizes of occlusals and a side mirror. If you are autoclaving instead of cold sterilizing, I would recommend keeping the reflective side facing toward the paper side of the bag for lessened appearance of lines on the mirrors. Most of the time, I will use the adult (medium) occlusal mirror and the side mirror for a quick set of four photos to complete my series. The mirrors' bend in the middle helps hide the hands of my assistant holding them, and they help me get the perfect angle. Mirrors are commonplace and easy to find, but I think that Lester A. Dine got all the details right with this set.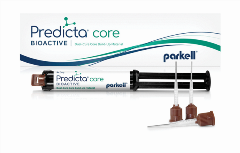 Bioactive Materials that Really Shine

Predicta® Bioactive
Parkell
parkell.com
I think bioactivity is one of the most important factors when choosing direct restorative materials. A set of materials that I have been utilizing lately for core and bulk buildup situations is the Predicta
®
Bioactive line. These bulk fill composites are dual-cure and are delivered in an easy-to-use double-barrel syringe. The Core and Bulk are both available in low-viscosity "flowables," which are more creamy, and high-viscosity "stackables." Capable of releasing and recharging with fluoride, calcium and phosphate ions, these materials are dense and strong choices for dimensional stability. When I say dense, I am referencing their consistency as well as how difficult the "stackable" viscosity materials are to extrude. Predicta Core or Bulk stackables both set up in a quick minute, so they are wonderful for situations that don't have extreme variations in floor anatomy, such as a molar endodontic access, but the Core flowable has a longer set time for post placement or cementation. If you choose the wrong viscosity, you may run into some serious time crunch challenges. (I learned from experience.) Predicta Bulk works well in Class I or II situations, and, since it is dual-cured, it should give you confidence about a complete depth of cure. Predicta Bulk comes in shades A1/B1 and A2/B2, while the Core comes only in "tooth" (I would call it close to A2) and white shades. After curing, the Predicta materials are quite shiny and smooth, so if you are able to leave the fill at the ideal level, you probably don't have to do any finishing work. That being said, they also exhibit excellent shine after polishing. If you are looking to introduce bioactivity into your armamentarium, the Predicta Bioactive line can give you confidence that you are providing your patient with not only a great restoration, but a material that can be a positive change for their oral environment
Ross Isbell, DMD, MBA, currently practices in Gadsden, Alabama, with his father, Gordon Isbell, DMD, MAGD. He attended the University of Alabama at Birmingham (UAB) School of Dentistry and completed a general practice residency at UAB Hospital. Isbell has confirmed to AGD that he has not received any remuneration from the manufacturers of the products reviewed or their affiliates for the past three years. All reviews are the opinions of the author and are not shared or endorsed by
AGD Impact
or AGD. To comment on this article, email
impact@agd.org
.