How Do Dentists Define Success?
by

Jackie Ulasewich Cullen

Jan 30, 2023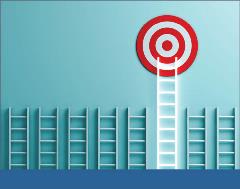 Every dentist and dental practice defines success differently. For many dental practices, success can mean more brand/practice awareness within the community, fewer patients but higher revenue, or an influx of new patients — or some combination of these things. That's the beauty of success — it can't be defined in a singular way, and anyone can have it on their own terms as long as they have a clear goal in mind and a plan to achieve it.
Let's break down the strategies for the common goals most dental practices have. Any dental practice wishing to increase revenue, attract new patients or raise awareness in the community must have the "basics" covered before anything else can happen: a solid website and at least a minor online presence, plus a marketing budget and a timeline. These tools are the foundations upon which the practice will build and perfect its online image and achieve measurable results.
Goal: Increase Brand/Practice Awareness
Because this goal focuses on the intangible — not targeting a specific type of patient or increase in revenue — the heart of the strategy should center around social media and online reviews. Significantly increasing your social media presence and activity will create buzz in the community. The practice should also push for online reviews from patients if it does not already do so. Reviews will increase the practice's online visibility because an overwhelming majority of patients consider online reviews when choosing a dental practice.
The practices that are the most successful in raising awareness within their communities also take time to do offline work, like getting involved in a local food/ toy/clothing drive, sponsoring a school's sports team or collecting donations for a charity that's near to the dentist's heart. Doing something good for the community will earn the practice social capital, enhancing its image in the eyes of local citizens.
Anytime a practice does something good for the community, it should also let people know about its efforts by posting on social media, writing a blog post, etc. This strategy can also include remarketing on social media to anyone who visits your website or landing pages. It can also include an email campaign to existing patients, making them aware you are active on social media and letting them help you spread the word about your practice. This type of seemingly "nonmarketing" communication humanizes the practice, and a patient who may be on the fence or had forgotten about the practice will think of it in a different light — not just as a dental practice out to earn money, but as a community-oriented local business with values.
Goal: Attract High-Quality Patients
When practices say they want to increase revenue but are not looking for an influx of new patients, usually what they are really looking for is to increase the quality of the patients they see and weed out patients who might be "shoppers" just looking for discounts. Instead, they want long-term patients who expect that they will have to pay for quality care. To attract these types of patients, the best strategy is to have highly targeted and focused messaging using special landing pages, videos, social media and blog posts, and emails. Google Ads campaigns will increase the practice's online visibility, but they should not include coupons and discounts. Coupons tend to attract patients who come in just for the advertised service and never return for other treatments unless they're being offered at a discount.
When a practice is trying to attract high-quality patients, the volume will be lower, and, therefore, it may take more time to reach the desired goal, which can be discouraging in the beginning stages. However, if the practice takes the long view and is patient, the strategy will pay off and continue to do so year after year.
The best strategy is to think the way a high-end hotel or fine dining restaurant would when it comes to marketing. Businesses like those, which cater to an affluent clientele, are very particular about the type of messaging they use, from language and imaging to ad placements. These businesses are not looking for a high volume of customers with lower average sales. Instead, they're looking for a lower volume of customers, but those who recognize that quality costs more and are willing to pay.
Goal: Increase Volume of New Patients
Contrary to seeking an increase in patient quality, some practices simply want an influx of new patients — without putting much emphasis on value per patient. In this case, the practice could use coupons and offer discounts, targeting as wide an audience as possible. We call this a "blanket approach." The practice should post heavily on social media and run Google Ads campaigns with the goal of reaching as many people as possible without focusing on a specific treatment or type of patient.
Messaging for this type of strategy should be broad to resonate with patients of all ages, backgrounds and socioeconomic statuses. The practice should take full advantage of every online channel available, including its website, possibly creating a landing page for a new patient special. Of course, videos, social media posts, blogs and email campaigns are all useful tools for driving in a large number of new patients. With this type of strategy, the practice cannot afford to be too particular in its marketing, instead thinking more like a casual dining restaurant or a mid-range hotel. The average sales may be on the lower side, but the number of patrons will generate higher overall revenue at the end of the day.
No matter how a practice chooses to grow, proven strategies can surely lead to success — with the requisite amount of forethought and commitment. Any practice can attempt any of these strategies on its own. However, partnering with a professional marketing agency will take most of the burden of planning and implementation off of the practice and increase the likelihood of an optimal outcome.
Jackie Ulasewich Cullen is co-founder of My Dental Agency, a marketing company specializing in dental practice. To comment on this article, email
impact@agd.org
.