Selina Fuentes Gutierrez, DDS
by

AGD Staff

Jan 10, 2023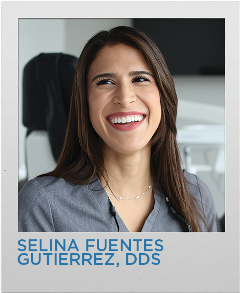 ---
"I plan to coordinate a yearly free dental service weekend at my office for the underserved communities of Greater San Antonio."

---

Inwood Family Dental, San Antonio, Texas
Every "Dentist to Watch" is a leader in the dental field, but how they settled into their leadership role is unique. Selina Fuentes Gutierrez, DDS, attributes her development as a leader to the valuable lessons she learned as an associate dentist in her first years of practice.
Gutierrez credits the book, "The 5 Levels of Leadership," by John C. Maxwell, with helping her understand her role as the new associate dentist in her office.
"When I first started practicing as an associate, I felt I was a leader of my team because I had earned the title and the role to gain their respect," Gutierrez said. "I would lead morning huddles and give my team directions throughout the day but was occasionally met with resistance. I realized I had gained 'positional leadership' but had not yet earned their permission to lead them."
Gutierrez discovered that leadership meant more than position or title. Since then, she has deliberately focused her efforts to connect with her team members, earn their trust and understand their values.
"I wish I would have taken the time to better understand these principles before starting my dental career so I could have been more aware of my role as the leader of my team much sooner," Gutierrez said.
In November 2022, Gutierrez accomplished one of her major goals — purchasing her own dental practice.
"I have been through the acquisition process twice now and have learned from both my successes and mistakes," Gutierrez said. She hopes to be a resource for newer dental professionals looking to acquire a dental practice.
Another goal for Gutierrez is to strengthen her advocacy for those in her community with limited access to oral healthcare.
"I plan to coordinate a yearly free dental service weekend at my office for the underserved communities of Greater San Antonio," Gutierrez said. "My goal is to reach out to the refugee, asylum-seeking and immigrant populations. Many of these individuals do not have proof of residency to receive care at government-funded dental clinics."
Gutierrez's roles as a dentist and leader continue after she leaves her office at the end of the workweek. In her free time, she volunteers at the San Antonio Food Bank preparing meals and lends her expertise by providing free dental treatment and mentoring aspiring predental students.