Jeena E. Devasia, DDS, FAGD
by

AGD Staff

Jan 10, 2023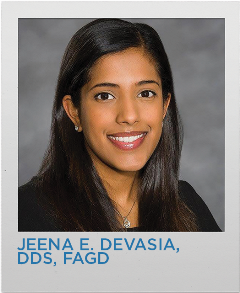 ---
"I'd love to impact the life of a young dentist in the same way that my mentor impacted me."
---
McLean DDS, McLean, Virginia
When Steven A. LeBeau, DDS, FAGD, offered Jeena E. Devasia, DDS, FAGD, an internship at his dental office after her high school graduation in 2007, he quickly discovered she wasn't the typical intern.
"Within two days, we realized we needed to pay her because she was working, not watching," LeBeau said.
LeBeau, who nominated Devasia, recognized her rising star potential and offered her a job right out of dental school.
"That experience fueled my passion for the field, and I always welcome dental students and interns at the practice," Devasia said. "I'd love to impact the life of a young dentist in the same way that my mentor impacted me."
Devasia extends this caring approach to her patients, and she said patient education is one of the most meaningful aspects of her career.
"The technological advances in dentistry make my job as an educator even easier, so I'm always excited to implement the use of innovative tools in the practice to improve the lives of patients," Devasia said. "Being able to show patients their intraoral pictures or scan to communicate my diagnosis and treatment plan builds trust."
Devasia hasn't waited to get involved in organized dentistry. She earned her FAGD as well as fellowships in the International College of Dentists and the Virginia Dental Association within seven years of graduation. She also received the Virginia Dental Association's New Dentist Award for her contributions to organized dentistry. She currently serves as president of the Virginia AGD and president-elect of the Northern Virginia Dental Society.
Reflecting on what excites her most about the dental profession, Devasia said she appreciates how dentists control the way they practice — a big differentiator from other healthcare professions.
"Dentists practice more like a family than a profession composed of colleagues," Devasia said. "I practice on a floor with three other general dentistry practices, but I know that I can stop by to ask a clinical question or borrow a product that we're low on or have backordered. Our support for each other is the secret to our success."