PACE Celebrates 35 Years of Helping Members Find Quality Education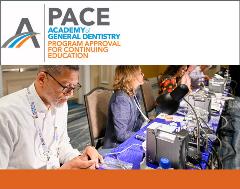 "Never stop learning." This is a phrase AGD members live by. Keeping up with advances in technology and techniques sends a message to patients and the public that AGD dentists are well trained and committed to improving their patients' health throughout their careers. In turn, AGD is committed to helping you find first-rate continuing education (CE) courses. We began approving CE providers in 1988 to help our members identify quality education. Today, with nearly 1,700 approved providers, AGD can boast that we have the most comprehensive list of quality CE providers available to general dentists.
AGD's Program Approval for Continuing Education (PACE) program uses a comprehensive application to objectively evaluate a provider's educational processes of administration, design, planning and implementation — all the components that support quality education. Each approved organization must complete the application and document its compliance with AGD standards set forth by the program's guidelines. The PACE Committee evaluates applications from organizations that offer courses in multiple states. Each local AGD constituency has a similar local committee to review organizations offering courses in a single state.
PACE standards evaluate providers in 13 aspects of CE program quality, and providers are held accountable for maintaining these high standards for each course they offer. This helps ensure that any course that carries the AGD PACE logo will be well organized and presented in a clear, professional manner. While AGD does not review content, providers must present courses that fit AGD's definition of CE. Thus, AGD members and other participants can be assured that AGD PACE-approved providers will offer educational activities designed to review existing concepts and techniques and convey information beyond basic dental education. Participants should expect to improve their knowledge and skills and strengthen their habits of critical inquiry when attending AGD PACE-approved programs. They can also expect that AGD PACE-approved courses will be independent of commercial influence. If a commercial organization sponsors a program, participants must be made aware of this in advance, and providers are required to ensure that a balanced, impartial view of all therapeutic options is presented during the course.
AGD PACE-approved organizations also help AGD members keep track of their CE. All PACE-approved organizations are asked to electronically submit the names of AGD members who completed a course within 30 days. Once AGD receives the course completion information, it is immediately added to the members' award and licensing transcripts. Members should check their transcripts monthly to make sure all CE hours have been added. Nearly all of the U.S. and Canadian licensing jurisdictions that have CE requirements for licensure renewal of dentists and allied staff accept credits from AGD PACE-approved providers, although some may have additional criteria that must be met.
Dental professionals throughout the United States and Canada can identify AGD PACE-approved providers by looking for the AGD PACE logo and approval statement. The approval statement must appear on all publicity materials and brochures distributed by approved organizations and include the provider's term of approval. So, the next time you receive an email, brochure or flyer advertising an upcoming CE event, check first for the AGD PACE logo so you can be assured that the course is coming from an AGD PACE-approved organization. For more than three decades, AGD has been working for you to identify programs that have been planned in accordance with solid education processes and designed to provide you with impartial information that can help you provide better care to patients. If the AGD PACE logo is there, you can have peace of mind knowing the provider has met AGD's rigorous standards.