Getting the Most Out of Your Continuing Education for You and Your Team
by

Don Deems, DDS, FAGD, PCC

Aug 29, 2022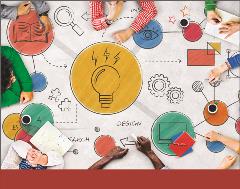 As a practicing dentist for 35 years, there's no doubt that continuing education (CE) has a positive effect on your practice and your team. If you choose to attend live CE, out-of-town programs can be huge investments because of the meeting registration, travel, lodging, food, wages and time away from the office. Coordinating team members' travel can be challenging due to family obligations and caretaking responsibilities outside the office.

With all these obstacles, how can you make the most of your investment in CE for you and your team? Dentists and their teams usually come back from CE programs with well-meaning intentions of implementing new protocols and techniques. But all too often, they see those intentions fade as the days pass. It's well known that developing new habits and changing behavior patterns are difficult — look at how many New Year's resolutions fail. When it comes to learning, 75% of what you learn is retained when you practice it; 50% is retained when you engage in a group discussion; 30% is retained when you see a demonstration; and 20% is retained from audio-visual materials.1

Even though listening to lectures is by far the most common CE format, it's the least effective method for learning. A 2015 study by Microsoft found that humans have an average attention span of only eight seconds. Keep in mind that a goldfish's attention span is nine seconds.2 What can you do to get the most out of your time and investment in CE?
Start planning your team's and your attendance at a meeting or conference well in advance. Team members (and you) will likely need to make arrangements to be gone for two or more days. Make sure that each team member will be able to attend, and, if that won't work, decide if it will still be beneficial. Often, team members who can't attend may feel left out or not part of the team. Team members who attended may have negative feelings toward team members who did not attend.
Before signing up for a CE program, meet with your team to decide if the content of the CE is appropriate for your practice. Make a list of objectives and items that each team member would like to learn.
Once you decide to register, pick out the courses in advance. Meet with each person to tailor the course choices that would be most appropriate for them. Team members often want to go to courses together, which may or may not be appropriate for all team members, and, in my experience, many team members get distracted by their fellow team members.
Let all team members know in advance that they will be expected to share what they learned at the end of the day.
Plan to meet immediately after the day's course(s) to share what each person (including you) have learned. Do this for each day you attend.
Have a team meeting planned when you return to the office to review what each person learned. Have them tell the team. The key is repetition.
• Lead a discussion on how the team will incorporate any new information, policies, protocols and procedures. Have a team member record it and, once organized, distribute it to each team member.
In a month, plan another team meeting to review how the changes have affected the practice. Eliminate changes that aren't working and emphasize the ones that are.
These same protocols apply to online CE, which has become much more popular and cost-effective, even though it's not the same experience for the learner. What are some pointers for picking online CE courses? I recommend following the same guidelines that you would for a live CE course, modified to accommodate the fact that different team members may choose online programs at different times and outside normal office hours. Again, setting expectations for the CE course, repetition by sharing what has been learned by the team, and implementing those items learned into office protocol and procedures is still essential.

CE is essential to our professional and personal development. It is an ongoing process that is critical to providing our patients with the best care possible. Our great profession requires that commitment. AGD members exemplify this commitment because they value learning and growing.

Don Deems, DDS, FAGD, PCC, known as The Dentist's Coach®, is a trained professional, personal and business coach, and a practicing dentist. To comment on this article, email impact@agd.org.

References
1. D'Souza, Sean. "How To Retain 90% Of Everything You Learn." Psychotactics, psychotactics.com/art-retain-learning/. Accessed 13 May 2022.
2. McSpadden, Kevin. "You Now Have a Shorter Attention Span Than a Goldfish." Time, 14 May 2015, time.com/3858309/attention-spans-goldfish/. Accessed 26 May 2022.