Dr. O'Brien Makes an Impact for Dentistry Through Volunteer Leadership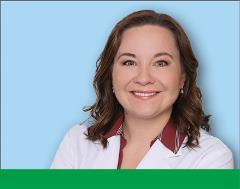 With an interest in dentistry that first sparked during childhood, Arlene O'Brien, DMD, FAGD, now serves the profession through her roles as president of the New Jersey AGD and as a member of the national AGD's Dental Practice Council. She shared with
AGD Impact
what motivates her to support her fellow general dentists through volunteer leadership positions and involvement in organized dentistry.
AGD Impact: What inspired you to become a dentist? What has your professional journey been like?
O'Brien:
If I'm being completely honest, I can trace my inspiration to when I was 5 years old. I was watching 1964's "Rudolph the Red-Nosed Reindeer." In the movie, Hermey, an elf, exclaims that he doesn't like to make toys and that "someday, I would like to be a dentist!" After I watched that movie, whenever anyone would ask what I wanted to be, I would say "a dentist!" I even wrote it in my kindergarten "All About Me" project. Of course, at that point I really didn't understand what being a dentist was, but the idea never left me. My father is a carpenter who worked with his hands his whole life, so an opportunity to follow in his footsteps in that respect was appealing to me as well. During my first semester at Rutgers University, I saw a flyer for the Pre-Dental Society and went to the meeting. It was at this meeting that I learned about a brand-new joint seven-year BA/DMD program that Rutgers was starting, and I set that as my goal. I was accepted and able to begin dental school at the University of Medicine and Dentistry of New Jersey (UMDNJ; now the Rutgers School of Dental Medicine) during my senior year of college. After graduating UMDNJ, I did a general practice residency at the Jersey Shore University Medical Center before joining a private practice in New Jersey as an associate. Fifteen years later, that associateship has led to a partnership where I now practice in Green Brook, New Jersey.
When did you join AGD, and how did you become involved as a volunteer leader?
I joined AGD during dental school and have been a member ever since. I believe that makes it 17 years. About seven years ago, I was asked to attend a board meeting for the New Jersey AGD. Not knowing what to expect, I walked into a room of welcoming general dentists. I was inspired by the group and decided to join the board and help however I could. I served first as the continuing education chair, then secretary, and then vice president, which blossomed into my current role as president. The board has become like a second family, and I love the work we do to advocate for and educate the general dentist. Together as a group, we make a huge impact.
Can you tell us about the work you do on AGD's Dental Practice Council? What have been some of your and the council's biggest accomplishments?
Being part of the AGD's Dental Practice Council has been extremely fulfilling. At the beginning of the pandemic, when our offices were shut down, the Dental Practice Council met remotely day after day to gather resources and information to put together a "Return to Work" document for our members. I was honored to be able to use my days at home to help get our profession safely back to work and to be a resource for other dentists as we tried to navigate those uncharted waters. I am also AGD's alternate delegate for the ADA's Code Maintenance Committee, the group that evaluates and votes on updates and changes made to the Code on Dental Procedures and Nomenclature (CDT Code). Each year, we evaluate, debate and vote on 75–100 recommendations to change the CDT and advocate for the general dentist as we do so. This is just one of many ways that AGD represents general dentists within organized dentistry.
What hobbies do you have outside of dentistry?
Most of my time outside of dentistry is spent taking care of my family. My husband is a criminal defense attorney in New Jersey and an adjunct professor at Rutgers University. Both his schedule and mine can be demanding, but we make it work to keep our two daughters attending softball practices, Girl Scout meetings, Hebrew school and piano lessons. I enjoy jogging and hosting family and friends for impromptu backyard BBQs.