Dental Care for Pregnant Patients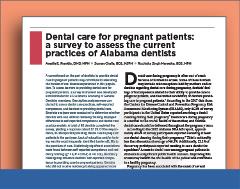 Dental care during pregnancy is out of reach for many because of barriers to access, which include patients' misconceptions or dentists' feelings of incompetence to provide specialized care. To assess these barriers, a comprehensive survey of Alabama AGD members was conducted, taking into account the demographics and training of participating dentists.
Read the results in the July/August issue of General Dentistry
.