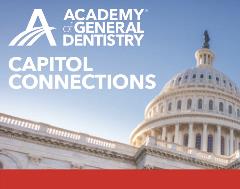 AGD is working to address the most pressing issues faced by our members as we advocate to government entities for general dentists.

This issue includes:
AGD Comments on Proposals to Prohibit Tobacco Flavors
HHS Renews COVID-19 Public Health Emergency
Urge the Senate to Take Up H.R. 4555 Today
Read more in the latest issue of Capitol Connections.