Marketing Dental Implants Post-Pandemic
by

Jackie Ulasewich Cullen

Jul 25, 2022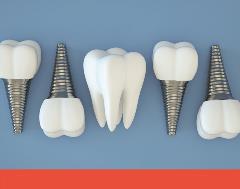 As mask mandates are being lifted and fewer people are becoming severely ill with COVID-19, it may seem like the pandemic is somewhat under control. But many people are still feeling the effects, especially in terms of added stress. Dentists all over the country are seeing these effects in their patients now that they have started coming back for regular cleanings as well as in new patients who have had their dental health deteriorate since the start of the pandemic. To serve these patients, dentists must understand how to effectively reach them, capture their attention and alert them to appropriate treatments, such as dental implants, that will improve their overall health.
From a marketing perspective, this is an opportunity not only to grow the practice but also to educate patients who might otherwise not know what to do about their oral health problems. Taking advantage of all available marketing channels, not just traditional ones, is the best way to find the patients who could benefit from treatments like dental implants as a way to restore their oral health.
Become an Information Source
Information about dental implants has made its way into the mainstream, which means that more and more patients are aware of the treatment and even have a cursory knowledge of what it entails. Some of these patients believe that dental implants will solve their oral health problems, while others may be wondering if implants could benefit them. In either case, these patients need more information, and they are most likely to look online. Therefore, it is important that any dentist wanting to attract this type of patient have an online presence, at the very least.
Patients are hearing about dental implant therapy and want to know if their local dental practice offers it. Having a digital marketing campaign geared around implants is an excellent way to capture these potential patients. However, as with any direct campaign, patients who may not be good candidates for the procedure will contact the practice, and it is up to the dentist to thoroughly evaluate each patient to determine a treatment plan that will meet their specific needs. However, we have found that these campaigns often generate new patients with other treatment needs.
Utilizing Multiple Channels Is Key
It is a mistake to think that any patient looking for a specific treatment is going to simply walk through the door or call to book an appointment. Today's patients research treatments and dentists before reaching out. If a dentist does not have an online presence, he or she will be overlooked by patients searching for answers. In an environment where digital dominates, dental practices should be considering all the ways they can get in front of prospective patients, especially when focusing on dental implants, since competition for implant patients is becoming fierce in a growing number of markets.
One important point to keep in mind is that running a targeted marketing campaign should involve multiple channels, with the majority being digital, to reach as many prospective patients as possible. Using traditional media such as postcards is just not enough anymore. Even if a patient reads the postcard and is interested in contacting the practice, the first thing they are going to do is look online for more information. If the practice does not have a website, the website is outdated or too generic, or the URL takes them to a homepage rather than a page dedicated to dental implants, they are far less likely to pursue the matter. Additionally, if the postcard does not feature dental implants but just lists a menu of services including implants, the message becomes diluted, and the patient is going to move on. In short, if a practice wants to attract a specific type of patient, its marketing efforts must be specific and highly targeted to that patient. Digital marketing only serves to enhance the message of traditional marketing and is therefore an essential component in a well-executed marketing plan.
The larger a practice's online presence, the higher the probability that patients will find it. When marketing a specific treatment in a post-pandemic environment to people who have been suffering, often in isolation, and are looking for relief, it is important to have digital content that doesn't just sell but also educates in order to capture attention and build trust. Practices should be creating landing pages dedicated to the benefits of treatments like dental implants that include patient testimonials and before-and-after pictures. The dentist should be writing articles and blog posts on the subject to increase their authority. Social media content should direct patients to the landing page, the blog and any other related content that the practice has published. It should be an intense effort, focused on a single topic to reinforce the benefits of the treatment for patients just like them.
Potential Mistakes
When marketing implants, one mistake dental practices make is focusing too much on the technicalities and features of the implants. While the technical aspects are certainly important, they will not compel a patient to take action. Of course, patients want to know that they will be getting the highest quality materials and the most experienced practitioner, but what they want is hope for their future. That is why a technical approach to marketing is rarely effective. Rather than explain the details of implants, marketing should show patients how implants can give them a better life. This approach should be repeated across all marketing channels, traditional and digital, to send a consistent message no matter where or how the patient finds it. Digital marketing needs to support traditional marketing channels and vice versa.
Another mistake is letting patients walk out the door for good. When marketing is done correctly, it drives in new patients who book appointments for consultations. However, that should never be the end of the practice's marketing efforts. In fact, once the consultation is over, if the patient does not decide immediately to follow through with treatment, the practice should have a plan in place to continue marketing to that patient. When a patient sits down for a consultation and the dentist designs and explains a treatment plan, to let that patient leave without ever following up is a waste of the dentist's valuable time. Nobody wins. The patient clearly needs treatment — whether it ends up being dental implants or another appropriate treatment. Not following up with that patient when they do not immediately commit to treatment is doing them a disservice. It also leaves revenue on the table.
The post-pandemic marketing landscape can be sensitive from a marketing perspective, but there are opportunities for dentists to serve patients whose dental health has suffered over the last two years. Dental implants are one of those opportunities. Marketing to patients who will benefit from implants will net results, if done correctly, and that means sending the right message consistently, using multiple digital channels and following up with patients who may need time to decide about committing to treatment.
Jackie Ulasewich Cullen is co-founder of My Dental Agency, a marketing company specializing in dental practice. To comment on this article, email impact@agd.org.