AGD Member and Donated Dental Services Volunteer Helps Cancer Survivor Smile Again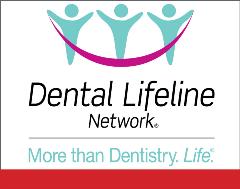 Winning a battle with cancer calls for a celebration. One cancer survivor has even more of a reason to grin now, thanks to the help of AGD member and Dental Lifeline Network (DLN) volunteer David G. Dickerhoff, DDS, MAGD, FOCO, of Spring Lake, North Carolina.
DLN's Donated Dental Services (DDS) program connects volunteer dentists with people with disabilities or who are elderly or medically fragile and have no other way to get help.
The DDS program aims to help people like 63-year-old Joseph, "Joe," a throat and prostate cancer survivor who lives with his wife, Vicki. Joe experienced a series of health challenges, including a major stroke that required a stent in his carotid artery, osteoarthritis in his knees and short-term memory loss.
Joe is in remission from cancer, but he had to have all his teeth extracted before his extensive radiation treatment. He was forced to retire due to his health. Joe and Vicki live off social security disability and long-term disability benefits — making dentures not a feasible option for Joe.
But, with the help of Dickerhoff and a volunteer lab, Joe received full upper and lower dentures.
"Treating Joseph and meeting with Vicki was an honor and a pleasure," said Dickerhoff, who has volunteered with DDS since 2009 and also chairs the DLN-NC Leadership Council. "After a cancer diagnosis and radiation exposure, Joe needed dental work and was very appreciative afterward."
Thanks to Dickerhoff's work, Joe regained the ability to eat — and smile — again.
"You have made such a difference in Joe's life and his new enjoyment of eating," Vicki said in a thank-you note. "We are so thankful for people like you and your staff in our lives."
"Everyone was really nice," Joe said. "Dr. Dickerhoff was great and took great care of me."
DDS volunteer dentists and labs have donated more than $509 million of comprehensive treatment for over 165,000 vulnerable people since 1985. AGD has been a strategic partner of DLN for many years. Are you interested in making a difference in the life of someone in your community? Visit
WillYouSeeOne.org
or
DentalLifeline.org
. DLN will handle the screening, coordinating and processing, letting you focus on treating the patient on your own schedule.