Testing the Tools
by

Ross Isbell, DMD, MBA

May 31, 2022
Reviews To Help Your Practice
Each issue of
AGD Impact
features a Testing the Tools column with practical reviews of some of the latest dental products. This month, reviewer Ross Isbell, DMD, MBA, a general dentist in Gadsden, Alabama, tested a flowable composite material, a mineral trioxide aggregate (MTA) material and hybrid composite blocks. Stay informed on equipment that helps you and your practice by checking out the reviews in each issue.
A Flowable for Long-Lasting Restorations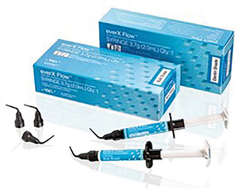 everX Flow™
GC America
gcamerica.com
This new flowable composite material from GC is a fantastic way to create strong, lasting restorations with easy dispensation. Reinforced with E-glass and barium glass microfibers, this flowable composite is designed for repairing weakened tooth structures quickly. These fibers are quite effective and alter the direction of force transfer, thereby reducing crack propagation in the material. This creates a very tough material that is resistant to compressive forces and highly fracture-resistant. The filler particle concentration is about 70%, which is possible because the fibers and resin are silanated to allow for better bonding to each other and to surrounding tooth structure. When this product line was first introduced, the microfiber length was significantly greater, but it created issues with manipulation and handling. To address this issue, GC made the microfibers much smaller and thinner — approximately 700 nanometers. Most nanohybrid composites have filler particles that are about 1 micrometer and no microfibers, so it definitely still has a chunky feel and appearance. The resin matrix is still creamy, so, while the handling is not like a normal flowable, it is also not cumbersome and still does an excellent job of adapting to uneven surfaces. The density and viscosity are also helpful because they allow for placement on walls with minimal slumping, even when gravity is against you. This material is available in a more transparent bulk shade that can be cured up to 5.5-millimeter depths or a dentin shade that can be cured in 2-mm depths. I prefer the dentin shade because I usually layer flowables anyway to minimize C-factor forces. This material has made its way into my armamentarium for use as a core buildup material primarily, but it is also becoming one of my main materials for temporary coverage of broken cusps or fractured teeth while I wait for presentation of symptoms on trauma teeth or to allow for strength until we have time in the schedule to do an indirect restoration. When I first placed it, I fully expected the material to appear splotchy or inconsistent after curing. However, if polished appropriately, everything looks pretty average and smooth. I highly recommend this material as a quick strong fix for almost any reparative situation.
A Good Powder That's a Little Hard to Mix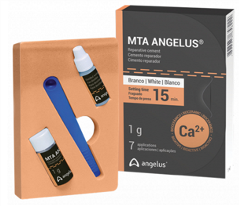 MTA Angelus
®
KinderDent
kinderdent.com
MTA Angelus
®
powder is a successful example of a mineral trioxide aggregate (MTA) material and is indicated for use in pulp capping, pulpotomies, periapical surgeries and root perforations. Due to the hydrophilic nature of the material and its ability for calcium release, it is very biocompatible and useful in situations involving wetness or blood. My primary complaint is that the granule size of the powder is too large, which makes for difficult mixing if you are aiming to create a putty. However, since MTA Angelus is activated by water, the distilled water that accompanies the powder really only needs to be used to create a more easily transported powder, or it can be mixed as a slurry and dried after placement. The MTA Angelus powder has a setting time of 10–15 minutes, so sometimes it can be difficult to wait long enough for that to harden and close, especially in a situation with uncontrolled bleeding. Since my primary use for MTA Angelus is pediatric pulpotomies and in perforation situations, I typically don't wait for a full set. Instead, I dry the site with a cotton ball or something similar, place the MTA Angelus, compact and dry again with a cotton ball, then place a light-cured liner material to hold it in place. This allows for some semblance of isolation, and then I continue with either obturation or restoration. The amount of MTA included in one vial will last five to 10 uses if you are conservative, and it is nice that, since it is all contained in a single vial, you can choose the amount you need for the case. While this product does exactly what it sets out to do, I think the handling and delivery is a little difficult.
A Better Bond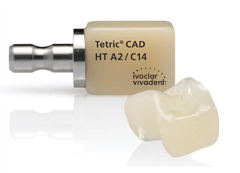 Tetric
®
CAD
Ivoclar Vivadent
ivoclar.com
Direct composite restoration of cavity preparations has been the bread-and-butter of dentistry for years, and that's not going to change. However, in some situations, better options exist if you have access to a milling unit. One such material is the Tetric
®
CAD nanohybrid block by Ivoclar Vivadent. Unlike direct composite restorations, hybrid composite blocks like Tetric CAD are already fully cured not only under light, but also pressure. This results in a stronger and more homogeneous material than is possible with direct placement while decreasing technique sensitivity and shrinkage due to the precision milling of margins and anatomy. In regard to milling, the marginal chipping with hybrid composite blocks like Tetric CAD is significantly less than with ceramics since they are less brittle and have better flexibility. Tetric CAD in particular is extremely flexible, with a modulus of elasticity of 10 gigapascals, compared with 15 GPa for dentin, and a flexural strength of 274 megapascals. I like to use Tetric CAD for large cavity preparations or as a temporary crown. That being said, because of the precision of the milling and the strength of the material, especially after bonding, this can also be used as a final restoration for crowns or even as a Maryland bridge. Depending on your purpose, you may choose to code the crown either as a provisional crown (D2799 or D2970), a resin crown (D2710) or a 3/4 resin crown (D2712), but you may be downgraded to a stainless steel crown code or not covered at all. In the same way, you have some flexibility with coding whether you select an onlay or inlay (D2652 or D2660), but it is highly likely insurance will downgrade you to a Class II restoration. So, my recommendation would be to consider setting similar fees for similar types of restorations, and make sure that the patient is aware that, although they will be receiving a higher quality of service, their insurance company may not treat it like that. There is no need to fire the material in a furnace after milling, so the total processing time is usually under 15 minutes, compared with 25–30 minutes for an e.max
®
cycle. After your restoration has been milled and is ready to deliver, consider treating the intaglio surface with aluminum oxide sandblasting. This alone can double your bond strength over a one-year period. Bond this restoration in place with an adhesive and a dual-cure cement in the same way you bond any other indirect restoration. Tetric CAD from Ivoclar is an excellent and esthetic hybrid composite and worth a try!
Want to see a product reviewed? Let us know at
impact@agd.org
.
Ross Isbell, DMD, MBA, currently practices in Gadsden, Alabama, with his father, Gordon Isbell, DMD, MAGD. He attended the University of Alabama at Birmingham (UAB) School of Dentistry and completed a general practice residency at UAB Hospital. Isbell has confirmed to AGD that he has not received any remuneration from the manufacturers of the products reviewed or their affiliates for the past three years. All reviews are the opinions of the author and are not shared or endorsed by
AGD Impact
or AGD. To comment on this article, email impact@agd.org.