Member Spotlight: Dr. Acheson Flies High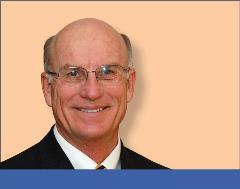 Guy E. Acheson, DDS, MAGD, might be one of the most driven general dentists. Prior to retiring, he built an ambitiously comprehensive full-service dental practice. He also has a long list of AGD accolades and leadership positions. But, most surprising might be the arena in which several of his other impressive achievements were earned: aerobatic glider pilot flying.
AGD Impact: What inspired you to become a dentist, and what inspired you to become a pilot? What have both journeys been like?
Acheson:
My father was a small-town physician who was never home because he was always working. I grew to appreciate his love of medicine and helping people, but the lifestyle was not attractive to me. I looked at his friends, and the dentists were universally the happiest people in his social group. Dentistry has truly satisfied my need for science, medicine, people, engineering and a good work-life balance.
Being a pilot started with making and flying hang gliders with my friends in junior high school. Then, in high school, we built, bought and flew increasingly better hang gliders. My wife bought me a real glider ride for a birthday present 30 years ago, and I have never looked back. To be able to fly an aircraft with no engine over distances up to 500 miles in a day or climb to over 36,000 feet in altitude is breathtaking to experience and almost impossible to explain to nonpilots.
What are some of your greatest achievements as a dentist? As a pilot?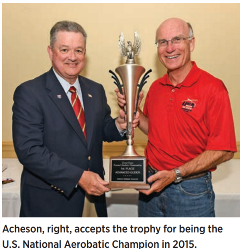 As a dentist, my crowning achievement was building a truly comprehensive general dental practice that includes all dental specialties, all levels of sedation and a very strong hospital dental practice. AGD was central to this process through my quest to achieve Mastership and multiple Lifelong Learning and Service Recognitions. The privilege of having my peers choose me as president of the Sacramento AGD component, president of the California constituency and my recent term as trustee for California has been very rewarding.
As a glider pilot, I have achieved the highest award for cross-country glider flying with the international Diamond Badge. As an aerobatic pilot, I have been the USA National Champion two times, and I will be going to the Fédération Aéronautique Internationale World Glider Aerobatic Championships in France this summer as part of the USA National team.
How do you balance a hobby as demanding as flying with your dental career?
Flying is actually a great relief from my dental career. When flying, I cannot answer the phone. My mind is totally focused on the task at hand and not ruminating about problems with patients or the office. While flying, I have a period of time where I am in complete awe and appreciation of nature — its beauty, its unpredictability, its power and its awesomeness.
Do flying and dentistry have anything in common?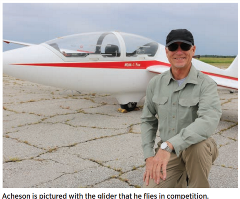 Flying and dentistry are surprisingly similar. Both require total focus on what you are doing at the moment, and they also require you to be prepared to instantly confront a problem and decide on a plan of action. Also, both are very risk-averse activities, so much so that the tool developed by pilots to reduce risk — the checklist — has been fully accepted by hospital operating rooms and by my practice. Before treating any patient, I work through a series of questions to make sure that I have the right patient scheduled for the right treatment and I have all of the equipment and supplies I need before beginning treatment. The same goes for flying. Do all of my instruments work? Is my parachute functional? Do all of my controls work? Is the door closed and locked? Am I in good health?
What goals are you currently working toward, both as a dentist and a pilot?
I sold my dental office and am now fully retired from active practice as of December 2021. I have been able to raise a beautiful family and to retire with my wife with complete freedom of what we want to do because of my successful dental career. I am continuing to work for the betterment of sedation in dentistry and improved patient safety through my work on the American Dental Association Council on Dental Education and Licensure's Anesthesia Committee. I am considering becoming part of a new dental school in Sacramento, perhaps to teach hospital dentistry.
As a pilot, I look forward to trying to fly a more perfect loop, a more graceful hammerhead and a more spectacular spin as part of the USA National team.
Life is what you make it. Take charge. Make sure to balance work, family and fun.