Dr. Batchelor Shares His Hopes for the Profession of Dentistry
by

AGD Staff

Apr 11, 2022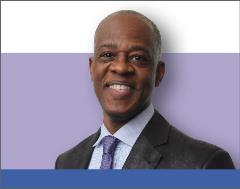 The name of the private practice Edwin T. Batchelor, DDS, FAGD, maintains is Excellence in Dentistry, and those three words come close to saying everything one needs to know about his treatment philosophy and his esteem for the profession of dentistry. Batchelor shared his story with
AGD Impact
, as well as his hopes for the future of AGD and the profession.
AGD Impact: What inspired you to become a dentist, and what was your educational experience like? What about your experience as a new dentist?
Batchelor:
I am not from a family with professional occupations; I grew up on a farm in Tennessee. None of my grandparents graduated from high school, and my mother was the first in our family to graduate from college. My grandmother's dream was to have all eight of her grandchildren graduate college. All eight of us did exactly that, and my grandmother attended all of our college graduations. I originally thought I would go into the medical field (obstetrics), but my mother suggested that dentistry was a better fit for me as I was somewhat "persnickety" — a trait she thought would be good for a dentist.
I quickly learned that graduation from dental school was just the start of learning how to be a dentist. As a new graduate and new dental practitioner, I knew nothing about the business of dentistry. I worked as an associate, living month to month while paying back student loans and rent and trying to subsist. The seasoned partner dentists were busy with their own patients and weren't particularly interested in mentoring me. Fortunately, the U.S. Navy was looking for dentists, and, after a year of struggling in private practice, I was commissioned in the Navy Dental Corps. While the Navy didn't teach the business aspects of dentistry, I did learn from experienced dentists how to be a competent clinician. The clinic at which I was first assigned was structured to actually mentor new and recent graduates. We rotated through different specialties and provided treatment under the auspices of the specialists. It was like participating in mini-residencies. After two years at the clinic, I was assigned to a ship where I was the only dentist. I experienced military life on the ship during Operation Desert Shield/Desert Storm. I had a solid basis and a good amount of practical experience to be confident and competent.
After developing a solid knowledge base and gaining a good amount of practical experience in the Navy, I reentered private practice and worked for a corporate practice for eight years. There are certainly advantages to dental service organizations, but I wanted an aspect of self-determination and autonomy that type of practice didn't provide, so I became an associate and eventual partner/owner in a private practice. I am still a partner/owner today.
What is your practice philosophy? How do you incorporate this in your patient interactions, and how do you encourage your team to participate?
My practice philosophy is simple: Treat patients like family — and I like my family — and treat them the way I would want to be treated. I always strive to do the right thing even though I may not always profit monetarily from it immediately. I feel that doing the right thing will see its own reward — maybe not immediately, but down the road. People won't always know, understand or remember what you did, but they will remember how you made them feel. Our practice's motto is relationship-based dentistry. We lead by example and expect our team members to follow our work philosophy; if they don't, we invite them to go find a practice whose philosophy is more in line with their own.
What AGD leadership roles have you held, and why do you feel it's important to support the profession in this way? What advice do you have for other members who may be considering stepping up within the organization?
I was invited to be a part of my state's AGD board years ago, and I happily accepted. I have served as treasurer and as president of my state constituency. I am currently chair of the Self-Instruction Committee for the national AGD and am also a member of the Examination Council. Looking at the current dialogue and the proposed and active changes in the dental profession, it is in our best interest to have an active role in our own profession. Examples of these changes include the accreditation of midlevel providers/ dental therapists as well as discussion regarding the ethics of "live patient" board exams. I feel that we all likely want to maintain the integrity and respect that we as dentists enjoy from the general population. Some of the proposed changes, in my opinion, are watering down the quality of services that patients should be receiving. I'm not opposed to change; rather, I want to make sure that any changes are advantageous to those they are supposed to be helping. Changes should be well thought out before being enacted. What concerns me most is the legacy of the profession that I've chosen. I would love to see younger dentists involved in impacting the direction our profession is heading and becoming the architects of these changes.
What hopes do you have for your professional career? What about your roles within AGD as well as the future of the organization?
I'm quite happy in the role of a general dentist. The continuing education courses I've taken throughout the years have enabled me to increase the scope of the services I provide. I plan to be a lifelong learner and be familiar with current and future advances in the dental field — whether or not I provide those services.
As far as my role within AGD, I will always support this organization in whatever ways I am able. AGD is the mouthpiece for general dentists. If we don't speak up and actively participate, others will control our profession and its future.
Outside of dentistry, what motivates you? What hobbies do you have, and how do you maintain balance between practicing, participating in AGD and everything else?
Family is a driving and motivating force for most of us. They push us, support us, and yes, even annoy us at times. Family is what matters the most to me. I include friends in that same category. Friends are the family we choose. As far as hobbies, there are my pre-COVID hobbies and my present-day hobbies. I used to travel a lot. I still like to work out, but not like before the pandemic when I would go to a gym. We now have an exercise room in our home. My wife gets me out snowshoeing on occasion as well as outdoor running and biking when the weather is favorable. I also started taking guitar lessons.
Maintaining a balance between work, family and everything else is ever-changing. It's like trying to juggle — you do what you need to in order to keep things from crashing. The trick is knowing how many you can keep in the air and knowing when to add or take away.