Don't Panic Over Mandated E-Prescribing of Controlled Substances Laws
by

Helen Jameson, JD, AGD Director of Dental Practice and Advocacy

Aug 10, 2020
In fall 2019, some dentists were taken aback to learn that their states would soon be mandating electronic prescribing of controlled substances (EPCS). Twelve states currently have mandatory EPCS laws, and, in 2021, mandates will go into effect in 13 additional states. Beginning Jan. 1, 2021, Medicare is mandating that prescriptions for all controlled substances under Part D be transmitted electronically.
The federal mandate was part of a sweeping new law enacted in 2018 to combat the nationwide opioid epidemic. Likewise, the state mandates were embedded in expansive legislation designed to combat the epidemic at the state level. In states, these laws are tied to prescription drug monitoring programs (PDMPs) that require pharmacies to report every prescription dispensed for a controlled substance.
There are no penalties for noncompliance with the Medicare Part D law, though it gives the U.S. Department of Health and Human Services the authority to create penalties in the future. States vary in terms of whether they include penalties for noncompliance.
The good news is that a dentist can still write occasional paper prescriptions for controlled substances, and the pharmacy can fill the prescription and enter it into a PDMP. In this situation, the pharmacy is in compliance with the EPCS; technically, the provider is not. However, if this occurs in a state with penalties for noncompliance, there is a negligible chance that the state will pursue penalties against the provider.
The goal of the state laws and the Medicare program is to prevent opioid misuse or diversion by identifying patients who might be "doctor shopping" to obtain controlled substances and providers who might be facilitating it (a crime, if intentional). The mandates are, in a practical sense, aspirational, and an examination of the 2019 Office of the National Coordinator for Health Information Technology report on EPCS among office-based physicians demonstrates why. The report found that, in 2017, just 32% of office-based physicians who prescribe controlled substances did so electronically. In practices with over 100 physicians, 59% e-prescribed controlled substances, but, in practices of three or fewer physicians, only 23% did. Rates of adoption vary by state.
The reason for this relatively low adoption by office-based physicians is the ongoing obstacles to interoperability between information technology products and systems. Some electronic health records (EHRs) satisfy requirements for EPCS ("certified" EHRs); many do not. In 2019, the American Medical Association sent a letter to 36 EHR vendors on this topic, noting that adoption of e-prescribing has been inhibited by "cumbersome workflows and applications that do not take physician needs into account."
Practically speaking, these mandates exist in an environment where many physicians, who prescribe opioids significantly more often than dentists, do not have the capacity to comply. According to American Dental Association Health Policy Institute data, in 2012, dentists accounted for just 6.4% of total opioid prescriptions, down dramatically from 1998, when dentists accounted for 15.5 % of total opioids prescriptions.
However, for those dentists who wish to utilize e-prescribing in their practice and have electronic dental record (EDR) systems, most of the programs that provide e-prescriptions for dentistry are simple "bolt-on" products that work with many EDR systems. Thus, the bolt-on product takes care of any "interoperability" issues. They cost around $50–$75 per month to use and provide a way of validating and maintaining the e-prescription as part of the patient record.
The COVID-19 pandemic has highlighted the fact that the U.S. healthcare system still has a long way to go in terms of true interoperability among health information technology systems. As dentists consider upgrades in their IT systems, decisions should be based on practice needs and due diligence, not a rush to comply with e-prescribing mandates.

Mandatory Electronic Prescribing of Controlled Substances States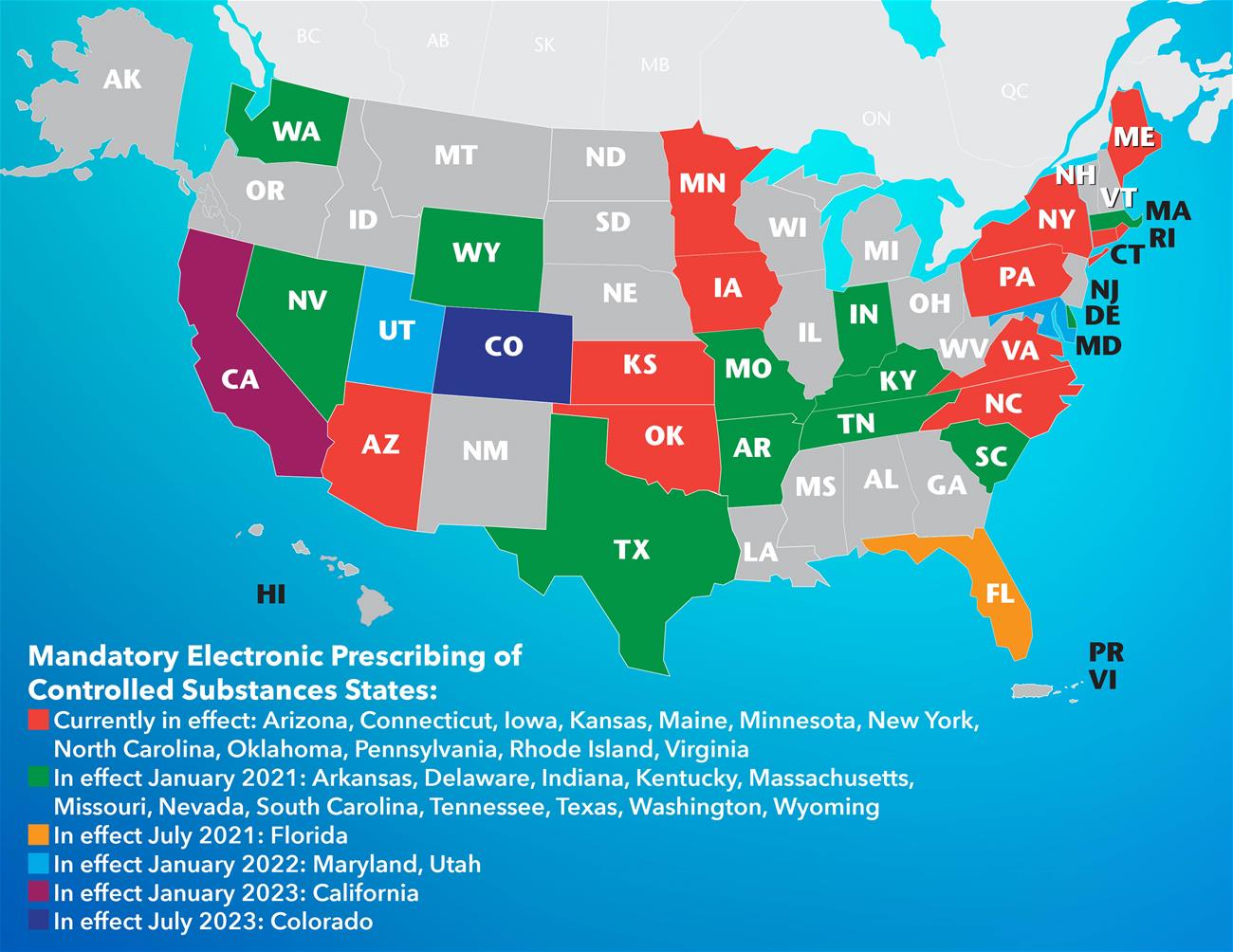 Currently in effect: Arizona, Connecticut, Iowa, Kansas, Maine, Minnesota, New York, North Carolina, Oklahoma, Pennsylvania, Rhode Island, Virginia
In effect January 2021: Arkansas, Delaware, Indiana, Kentucky, Massachusetts, Missouri, Nevada, South Carolina, Tennessee, Texas, Washington, Wyoming
In effect July 2021: Florida
In effect January 2022: Maryland, Utah
In effect January 2023: California
In effect July 2023: Colorado