The April Issue of AGD Impact Is Live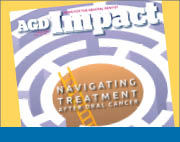 In recognition of April as Oral Cancer Awareness Month, the April issue of
AGD Impact
features treatment recommendations for dental patients before, during and after oral cancer treatment to assist you in managing the unique needs of this patient population. The issue also contains an interview with Pro Football Hall of Fame quarterback and three-time oral cancer survivor Jim Kelly, as well as an update from the AGD Foundation on recent and ongoing initiatives to raise awareness for oral cancer. Find the issue
online
or in your mailbox.
The April issue also contains two
Self-Instruction
exercises worth one CE credit each. If you've missed any exercises in past issues of
AGD Impact
, find them
online
, and take advantage of this opportunity to earn CE at your own pace in a variety of subject code areas.