Earn Valuable CE on Your Own
Self-Instruction allows you to earn valuable continuing education (CE) credit in the office, at home or on the go. Exercises are developed by and for general dentists, ensuring that you're getting CE that will benefit you, your patients and your practice.
We publish Self-Instruction (S-I) exercises at the end of every corresponding General Dentistry article. You can also pay online, test online, and receive your continuing education (CE) verification through our online Self-instruction program. Earning CE has never been easier.
With up to 18 exercises available each year, the Self-Instruction program is a great way to earn valuable CE credit in the office, at home, or on the go.
Each issue of General Dentistry, AGD's peer-reviewed clinical journal, features three articles and corresponding Self-Instruction exercises. Each one is worth two continuing education (CE) credits.
Once you enroll, you can earn CE credit in three easy steps:
Read the articles.
Take the exercises.
Submit your answers.
Self-Instruction Enrollment Packages
| | | |
| --- | --- | --- |
| Package | Members | Non-members |
| 1 exercise | $30 | $50 |
| 3 exercises | $70-Save $20 | $100-Save $50 |
| 6 exercises | $120-Save $60 | $170-Save $130 |
| 12 exercises | $180-Save $180 | $255-Save $345 |
* Not an AGD Member? Create a profile and select an enrollment package.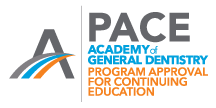 Approved PACE Program Provider
FAGD/MAGD Credit
Approval does not imply acceptance by a state or
Provincial board of dentistry or AGD Endorsement
6/1/2018 to 5/31/2024
Provider ID: 216217