Dr. Rouzana Hares Shares her Story about Treating Syrian Refugees in Jordan
by

AGD Staff

Oct 11, 2017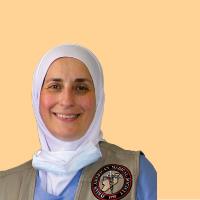 AGD member Rouzana Hares, DDS, FAGD, of West Bloomfield, Michigan, was among nearly 60 volunteers who traveled to Jordan with the Syrian American Medical Society (SAMS) to provide care to Syrian refugees.
Volunteers on the trip, which took place July 7–14, included health care providers, translators and administrators from the United States, United Kingdom, South Africa, France and Australia. They visited more than six refugee sites and treated close to 3,000 patients, Hares estimates. Three locations were equipped with dental chairs, and more than 270 patients received dental treatment. Six total dentists comprised the group, two stationed at each location.
Patients who signed up around 5 a.m. were treated throughout the day on a first-come, first-served basis until dental providers ran out of sterile instruments. Carious lesions and orofacial abscesses were common among Syrian refugees who sought dental care; for most patients, volunteers were only able to perform extractions, as donated dental materials were limited and sometimes nonexistent, Hares says.
"I was wishing for a couple forceps that I typically use in my office all the time. That would have made extractions much easier for a lot of the patients, but even these simple surgical instruments were not available," she recalls. "We even ran out of sterile syringes. A lot of [the cases we saw], though, included something we could easily restore — if we had the necessary root canal supplies or restorative materials."
The trip helped Hares recognize the small things — such as having access to a working suction unit, self-aspirating syringes, and multiple sizes of disposable needles or disinfectant wipes — that providers may take for granted while in daily practice.
"It gives you that ability to appreciate what you have and to revitalize your skills," she says. "Through SAMS, I routinely volunteer at local free clinics in Detroit, and I thought I was ready for the trip; to my surprise, I wasn't fully prepared. I learned so much about what I am capable of doing and the dentistry I can provide to patients just by going to these camps for six days."
Hares specifically recalls a 6-year-old patient whom she saw on the first day of the trip, who presented to the clinic with pain in her upper-right jaw that was keeping her up at night. "Her father explained that she put on her special purple dress just to come and see us," Hares says. After this specific dental visit, Hares wrote the following entry in the journal she kept during the trip:
The 6-year-old girl … had been experiencing pain on the upper right side of her jaw for a few days and had been prescribed antibiotics from the pediatrician. Without X-rays, I had to determine the best treatment. Tooth A was solid with no pain to percussion, moderate mesial and lingual decay; B was mobile and painful. I asked [the oral surgeon with whom I was working] desperately, 'Can we please attempt a pulpotomy on A if needed and an amalgam restoration?' I was told, 'Yes — as long as you think the patient can help you with spitting water out and sitting still.'
I nodded my head in agreement and looked at the child. I pleaded with her to help me so I could help her. The smart girl understood my plea, and she had a lovely, reassuring smile. As I was frantically looking through the inventory to set up, before I had time to rethink my decision, I kept reminding myself this [might] be difficult with no topical anesthesia and no nitrous oxide, not to mention no assistant to retract the tongue and no suction. She is going to be gagging, I thought.
The only other items that I could add to the setup were Miller forceps, a condenser and a carver. Twenty minutes later, I thought, 'This is like working on the plastic models at the dental school.' [To my surprise], the little girl sat still with her mouth open and full with water until I gave her the cue to spit in the plastic cup. That by itself prolonged the procedure time, but we did it.
That's when it hit me that kids can be so traumatized that they become numb. It is a difficult thing to explain to others; [I think about it as a] coping mechanism you use to disconnect yourself from reality and live your life as if you are watching a movie — you sympathize with the characters, but you can't process their physical pain.
Hares, a Syrian immigrant, ultimately would like to raise awareness of the dental needs among Syrian refugees in Jordan. "The needs are huge, and if more providers are able to help or support the clinics there, maybe we'll be able to provide better dental care for the refugees, who are basically trapped in these camps," she says.
Hares hopes to take another trip in July 2018. By that time, Hares also hopes to have helped establish a mobile dental clinic, so that refugees won't have to travel for care. "Sometimes the patients will walk a few hours or have to arrange for transportation to come over to the clinic," she explains.
The resilience of the people in the Syrian refugee camps surprised Hares. "We don't really recognize how far [having no electricity or water] could affect the quality of life," she says. "At a certain point, they were comforting me, telling me, 'It's OK. Don't worry. We'll get through it.' That shocked me. I was supposed to be there to help them. From that point on, I felt that I was working with a team — something I missed from my own clinic. It made me understand how vulnerable we are. We feel strong because we live in a safe environment; however, if that was to be taken away from us for a reason or another, would we be able to thrive?"