AGD Impact Features Women Dental Practice Owners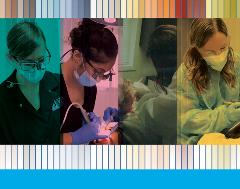 This month,
AGD Impact
tells the stories of four women practice owners and highlights their paths to careers in dentistry and practice ownership. The issue also looks at what dentists need to know about disability insurance to protect themselves if they become disabled. Check out this month's Member Spotlight as well as Marketing and Student Perspectives columns, and meet the candidates for the 2021–2022 Executive Committee. The issue contains one Self-Instruction exercise worth 1 CE credit.
Read the full issue now
.