New Members Save, Referring Members Earn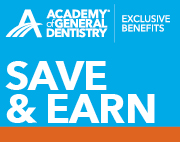 Let colleagues know now is the perfect time to become an AGD member. That's because, from now until Sept. 30, new members will only pay half of 2020 membership dues during AGD's Half-Year Dues promotion. Once they join, you'll both also earn $50 in Referral Rewards that can be used toward the national portion of your membership renewal. There's no limit to the amount you can earn, so you could pay for your own membership renewal entirely with Referral Rewards.
To begin submitting your referrals, just complete the
online form
, and remind your colleagues to put you down as the one who referred them. It's that simple!