AGD Impact Focuses on Demand for Dentistry
by

AGD Staff

Jun 29, 2020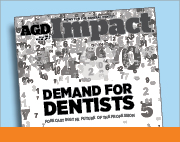 The July issue of AGD Impact focuses on the future demand for dentists. Different dental researchers chime in on the outlook for the profession, including the myriad evolving variables expected in the next several decades that may influence the need for dentists. The July issue also covers teledentistry, as well as marketing and ethics updates.
Check out the July issue
online
now, or watch for it in your mailbox.