AGD Seeks Nominations for Spokespeople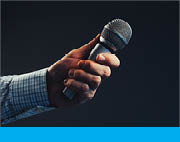 When the news media looks for people to provide information and insights on dentistry and oral health, AGD is seen as a reliable source. Additionally, AGD takes a proactive approach to promoting dental care to the public and frequently assesses possible media outlets through which to distribute public oral health information. To that end, AGD is currently looking for individuals to join its spokespeople program and seeks nominations of members capable of promoting oral health and AGD. If you would like to nominate someone,
complete an application now
. All nominations should be completed by 5 p.m. CDT, May 6, 2020.