Academy of General Dentistry Welcomes Erin Wellin as New Director of Meetings
by

AGD Staff

Jul 25, 2018
New Meetings Professional Poised to Coordinate Premier AGD Events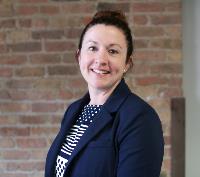 Chicago, IL (07.23.2018) — The Academy of General Dentistry recently named Erin Wellin, CMP, as its new director of Meetings. Wellin brings about sixteen years of hospitality, conference and event planning experience to the organization. She will oversee AGD's Meetings department that is responsible for the planning and execution of all AGD meetings, events and programs including the annual scientific session, the premier meeting for general dentists.
"We are delighted to have someone with Erin's background and experience to join the AGD team," Max Moses said, AGD, executive director. "As the AGD works to expand and enhance the quality of our programming, events and meetings, it's great to have someone on staff who can help us in maximizing our potential of offering general dentists superior events and programming.
Wellin joins the AGD team after a four-year tenure with the University of Chicago Law School where she served in the capacity of director of conferences and programs. In that role, she managed budgets, planning and the execution of over 600 conferences, programs and events annually. While at University of Chicago, Wellin and her team coordinated several high-profile events, including the hosting of Supreme Court Justice Elena Kagan in 2015, and President Barak Obama's town hall address on Supreme Court appointments in April 2016.
Wellin held positions with other well recognized and respected organizations such as the American Bar Association, where she started as the organization's program assistant for the Bar Services Division. A year later she joined the Division of Legal Services as the program, events and committee manager where she planned and produced the Equal Justice Conference, a premier national conference for legal aid and pro bono attorneys.