2023 Chapter of the Year Award Winner
Louisiana State University School of Dentistry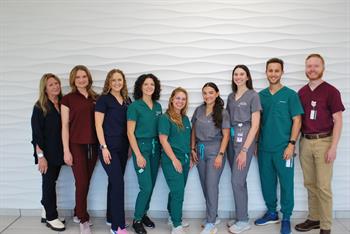 The 2022–2023 school year was the year of revitalization for the Louisiana State University AGD student chapter. The student chapter worked hard to recruit 75 new members and host 9 continuing education sessions. They also expanded their chapter offerings and began hosting general meetings for student members. LSU AGD found ways to give back to the community as a group, including their World Mental Health Day event which featured a "paws"-itivity board and therapy dogs. Due to the growth of their student chapter, LSU expanded chapter leadership roles to allow for a more seamless distribution of responsibility. Kudos to the LSU AGD student chapter!
---
Purpose
The Chapter of the Year Award honors one AGD Student Chapter that provides their student membership with the best overall set of programs and activities.
Eligibility
To qualify for this award, chapters must be in good standing having submitted their Student Chapter Registration/Renewal form by December 31, 2022. The AGD Student Chapter who won the Chapter of the Year Award in the immediate prior year is exempt from consideration for the following academic year's award submissions.
Application
Constituent leaders, dental school faculty, or student leaders may apply for this award on behalf of their student chapter.
Judging
The activities shared on the application will be directly considered for the award. The New Dentist, Resident and Student Committee/Membership Council will judge the entries.
Award
Winners will receive:
Certificate of recognition
Recognition on the AGD webpage
$1,000 to be used toward new membership programming or to enhance existing programs
Notification
All nominated chapters will receive notification of the status of their nomination.
If you have any questions or concerns, please feel free to contact the membership team at 888.243.7392 or students@agd.org.