Regional Directors Corner
by

AGD Constituent Services

May 20, 2019
Laurence Grayhills, DMD, MS, MAGD
Regional Director, Region 20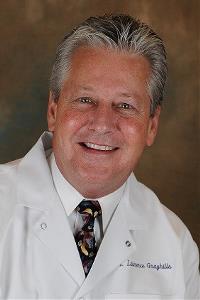 Laurence Grayhills, DMD, MS, MAGD, represents Region 20, which includes Florida, Puerto Rico and the Virgin Islands. Although he has served in that position for only four months, he has already taken strides to unite his constituents, expand membership in the AGD and advance a pro-dentist legislative agenda in the Florida state capitol.
He received his MS and DMD from the University of Florida in 1985. As a recipient of a National Health Service Corp. Scholarship, he served his first four years of practice as a public health dentist for the Palm Beach County Health Department in the underserved community of Belle Glade, Florida. Following this service, he began a career as a private practice dentist in the neighboring community of Wellington, Florida. He has been an AGD member since his graduation and received his MAGD in 2008 and his LLSR in 2016.

His involvement with organized dentistry has spanned his career. He served as president of the University of Florida College of Dentistry (UFCD) Academy of Alumni and Friends and the UFCD Development Advisory Board, president of the Florida AGD, a courtesy faculty member at UFCD on the Palm Beach State College Assisting and Hygiene programs, and at the Atlantic Coast Dental Research Clinic. He was a clinical research associate for Gordon Christensen and on Clinician's Report for most of his career .

Volunteerism has always been a part of Grayhills' life. He believes organized dentistry is the "heart and soul" for our profession and the public we serve. He believes in promoting the highest standards of dental healthcare delivery through continuing education; ethical practice, within the confines of the laws that govern our profession; the positive nurturing and education of our future professionals; and patient advocacy.

His mission as regional director for Region 20 is multifold:
To increase communication and a sense of connection from the national level to the component societies.


To assist his constituency with new member enrollment and retention of existing members.


To maintain and foster the growth of the four Student Fellow Track organizations within his region.


To support his constituency's robust continuing education programs.


To advance our legislative agenda in the state capitol. Legislative initiatives include the pursuit of quality dental healthcare for the citizens of Florida through efforts to promote the Dental Student Loan Repayment Program, community water fluoridation and battling the opioid abuse epidemic.
His advice to current and future leaders is to promote AGD's ideas:
Promote a lifelong ethic of continuing education for personal enrichment and provide the general public with the highest level of dental care.


Become or remain active in organized dentistry and the legislative matters governing dentistry to safeguard the high standard of dental care the public has come to expect from our profession.
When he isn't pursuing his career in dentistry, he enjoys his hobbies of amateur radio (K1UAT), community emergency preparedness, developing his guitar skills, teaching, cycling, general aviation, kayaking and glass blowing, most of which he pursues with his wife, Deborah.

Grayhills is grateful to have dedicated constituency presidents Merlin Ohmer and executive director Patricia Jenkins of Florida and Aldo Miranda of Puerto Rico and their committed board of directors.