2019 AGD Leadership Development Symposium Highlights
by

AGD Constituent Services

May 20, 2019
The 2019 Academy of General Dentistry (AGD) Leadership Development Symposium (LDS) was held on April 12-13 at the Holiday Inn Chicago Mart Plaza Hotel. The 1 1/2-day conference was designed to equip more than 100 active AGD volunteer and emerging leaders with the latest tools, skills and best practices to return to their constituencies energized and ready to take their local programs to the next level.
Hosted by AGD regional directors, the theme for this year's symposium was "Leading from the Inside Out." Two dynamic keynote addresses were delivered by past AGD presidents: Bruce Burton, DMD, MAGD, who led the motivating Friday morning discussion, "Effective Leadership – How to Lead," and Bruce DeGinder, DDS, MAGD, who led the discussion "Work, Play and Learn" to wrap up the conference Saturday morning. Throughout the symposium, attendees were encouraged to interact with peers, regional directors and AGD staff by networking and sharing ideas and experiences gained from their local constituencies.
Attendees were also offered insights from AGD's slate of diverse, motivating and engaging speakers during hour-long breakout sessions. These speakers included: Rocky Napier, DMD, who led "Grassroots Advocacy and Collaborative Opportunities"; Sanjay Uppal, DDS, FAGD, who led "Growing from Within"; Mai-Ly Duong, DMD, FAGD, who led "Membership Recruitment and Retention"; and AGD Past President David Halpern, DMD, FAGD, who led "CE for Growth and Retention."
In addition to hearing from fellow dentists, symposium attendees enjoyed leadership perspectives from two constituent executive directors who also hosted breakout sessions. Region 10 Executive Director Julie Berger led "Continuing Education Meeting Development," and Region 18 Executive Director Francine Johannesen, CAE, led "Engage Today. Excel Tomorrow."
During the networking lunch, Colgate's Burkard Selent, MSc, PhD, committed sponsor of LDS and special partner, shared an inspiring presentation titled, "Leadership Success."
AGD would like to thank Colgate and all of the symposium's speakers, regional directors and attendees for a successful and motivating 2019 LDS.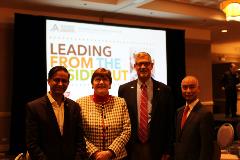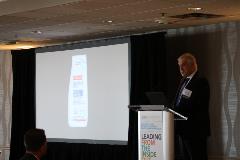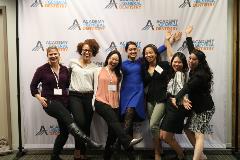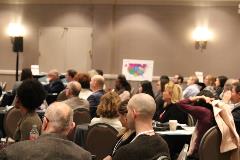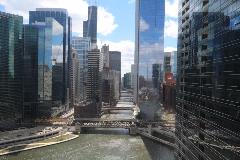 Check out photos from the event.