Non-Members and Students Experience the Texas AGD Difference
by

Texas AGD Staff

Mar 22, 2019
At the Texas AGD, recruitment strategies are implemented throughout the year to deliver innovative and relevant programs and services for general dentists in Texas. In the first quarter of 2019, two strategies were made a reality.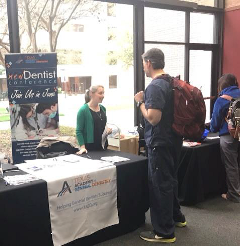 In January, the Texas AGD hosted a live webinar presented by Ernie Luce, DDS, on the new sedation rules set in place by the Texas State Board of Dental Examiners. This webinar was promoted to more than 5,000 member and non-member Texas dentists with sedation permits. The messaging also included a notice to renew or join AGD.
With more than 100 attendees, the webinar was in demand for general dentists and specialists, members and non-members. After the webinar, Texas AGD Membership Committee Chairperson Katie Stuchlik, DDS, and Membership Specialist Monica Drisdale personally reached out to the 39 non-member attendees to promote AGD membership. Due to the success of this program, another live webinar was scheduled for March 20.
In March, the Texas AGD attended signing day at UT Health San Antonio School of Dentistry with more than 80 percent of the graduating class. Texas AGD members, including President Jennifer Bone, DDS, MAGD, met with students, shared the benefits of membership and provided the opportunity to sign up onsite for membership and liability insurance from Dentist's Advantage. Updated contact information, including the students' new practice locations and non-school email addresses, was gathered. Throughout the signing day, these soon-to-be dentists networked with current members and learned how AGD can help them transition from dental students to practicing general dentists.
"With every little or big step, we are constantly looking for opportunities to promote how AGD, Texas AGD and the local component can put dentists on the path to Fellowship, Mastership and Lifelong Learning to provide quality dental care in general practice. " said Bone.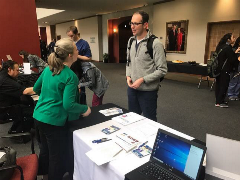 Dr. Jen Bone talks with students at UT Health San Antonio School of Dentistry signing day. General dentists and future dentists experienced the Texas AGD difference during two different membership recruitment events.