2019 AGD Leadership Development Symposium is Highly Regarded by Leaders
by

AGD Constituent Services Team

Feb 27, 2019
2019 AGD Leadership Development Symposium is Highly Regarded by Leaders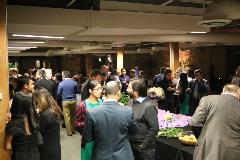 Since 2002, hundreds of new and experienced leaders have participated in AGD leadership conferences to gain skills that can be applied in all facets of dentists' lives. To continue our mission of molding and preparing leaders, this year's complimentary 2019 AGD Leadership Development Symposium is planned for April 12–13 at the Holiday Inn Chicago-Mart Plaza River North in Chicago.
Take a look at what past attendees have said:
"Overall, this was a great experience. It was mentioned several times that the organizers were trying to not waste the valuable time of the attendees, and I think they accomplished that. All of the material was pertinent and had slight overlap to mesh the different topics together. Course material and presenters were well-selected. The venue was very convenient and comfortable. The presentation rooms and hotel rooms were just right. The menu was well-chosen and well-executed. Networking times were well-placed throughout the program… I have been to other meetings of this type, and, without reservation, I can say that this was far and away the best."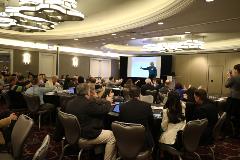 "I am very fortunate to be selected for participation, and the courses exceeded my expectations."

"I would actually give it 4.5 stars. I go to leadership seminars every year. I believe the AGD Leadership Symposium was directed in the proper direction this year, and efforts should be made to improve upon this foundation. It was more about learning the skills."

"I really enjoyed my experience. I learned a lot. It has inspired me to become a better leader and given me the tools to do it. Overall, very well done!"
The symposium is a 1 1/2-day meeting composed of AGD's very own experienced, effective and motivating member-leader speakers and keynotes who will share leadership trends, tools and resources for current and emerging AGD volunteer leaders. The overall goal is to inspire leaders by offering expert training on the true meaning of leadership, identifying your strengths and understanding techniques to build your confidence as you "Lead from the Inside Out."
These collaborative sessions will cover a variety of leadership topics and events, including:
Effective leadership – how to lead.
Grassroots advocacy and collaborative opportunities.
Growing from within.
Continuing education (CE) credits for growth and retention.
Membership recruitment and retention.
CE meeting development.
Engagement strategies for staff and volunteers.
An evening networking reception offering an opportunity to interact and connect with colleagues.
In addition to receiving free leadership training, attendees will also be awarded 7.45 hours of CE in subject code 770, Self-Improvement.
For more information and/or to find out if space is still available, please feel free to contact your regional director or Constituent Services at constituentservices@agd.org, or call the AGD Leader Line at 888.243.7392.
Colgate, an AGD Corporate Sponsor, is the Presenting Sponsor of this symposium.