James G. Richeson Jr. Leadership Awards Presented
by

AGD Constituent Services Representative

Apr 24, 2018
At the annual Region 5 continuing education (CE) meeting (Washington, D.C., Delaware, Maryland and Virginia) March 2, Charles Doring, DDS, MAGD, and Steven Feldman, DDS, were presented with the first Dr. James G. Richeson Jr. Leadership Award and Scholarship, respectively, by AGD Past President David F. Halpern, DMD, FAGD.
The awards were created by Region 5 to honor outstanding leader James G. Richeson Jr., DDS, who passed away May 30, 2015, at the age of 61.
Richeson exemplified leadership in all his activities. He was a past president of AGD (2002-2003), past president of the District of Columbia Dental Society and chair of the ADA's Code Maintenance Committee. A month before his passing, he chaired AGD's Oral Health Literacy Symposium and successfully procured unanimous consensus for key principles on oral health literacy, encapsulated in the Oral Health Literacy Consensus Statement, from representatives of a wide diversity of organizations. It was a remarkable achievement that continues to serve as the baseline for AGD's individual and collaborative efforts on oral health literacy.
The awards were not only created to honor his memory, but also to encourage and support leadership ideals and skill set development needed within organized dentistry and the overall profession.
Doring is a passionate advocate for general dentists. He is relentless in representing dentistry in Maryland and is a continuous presence at Maryland State hearings affecting dentistry, where he is recognized as one of the strongest and most respected voices of dentistry. He has been at the forefront of issues affecting dentistry in Maryland for over 20 years. Doring epitomizes what Richeson displayed as a leader — focused on advocacy, a skilled clinician and extremely knowledgeable about dental issues affecting how we desire and should practice dentistry.
Feldman began his leadership activities at the University of Maryland School of Dentistry as a strong representative for student rights and student loan issues at ASDA, AGD and ADA. He also championed student representation on a national level, at the council/committee level and at the House of Delegates. He has worked closely with AGD presidents and has been an active and vocal participant at local, regional and national meetings. Since graduation, he continues his leadership activities with his AGD council and committee service.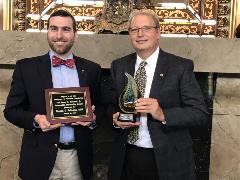 Dr. Charles A. Doring (right) received the Richeson Leadership Award. Dr. Steven G. Feldman (left) received the Richeson Leadership Scholarship.