CST Brings STAR Power to New York AGD and Virginia AGD!
by

AGD Constituent Services Representative

Sep 27, 2017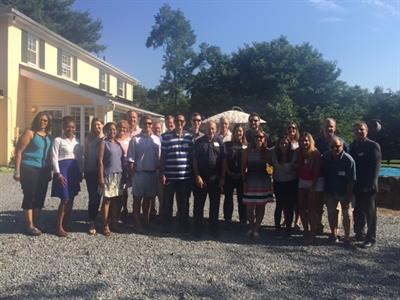 Pictured: Virginia AGD Board Members, AGD Staff and Drs. Donald and Barna.
This year, AGD staff and experienced leaders traveled to New York AGD (May 26, 2017) and Virginia AGD (Aug. 19, 2017) to assist constituent leaders during their highly anticipated Strategic and Tactical Assessment and Response (STAR) Visit.
Both meetings were a resounding success! Leaders from each constituency came together to host individual day-long sessions to discuss and address various issues and ways to improve their constituency. AGD's Immediate Past President, W. Mark Donald, DMD, MAGD; Past Region 10 Trustee, Patricia Meredith, DDS, MAGD and AGD Foundation Past President Julie Barna, DMD, MAGD, facilitated brainstorming discussions that touched on strategic planning, leadership development and membership retention and recruitment strategy efforts within each constituency.
Unfortunately, budgeted STAR Visits are no longer available for 2017. However, we encourage you to consider submitting an application for 2018. Be sure to take advantage of the opportunity to revitalize your board like New York AGD and Virginia AGD did:

"Many thanks to Drs. Meredith and Donald, Ms. Jones, and Ms. Pearson as they provided us with an objective assessment of our status, provided feedback, and offered valuable recommendations which will hopefully develop and strengthen our constituency."
James Keenan, DDS, MAGD
New York AGD President
"The AGD STAR visit was one of the most energizing and engaging AGD events I have attended. It was an opportunity for our constituency to reorganize and strategically plan for the future success of the VAGD. I greatly appreciate the AGD staff and volunteer leaders who energized our group and facilitated this event."
Justin R. Norbo, DDS
Virginia AGD President
Whether you want a small energy boost or an entirely new core, the AGD Constituent Services Team (CST) and STAR facilitators can help you achieve your goals!